Catchphrase
From Nookipedia, the Animal Crossing wiki
This article is about the phrases villagers use during conversation. For the phrases said by the player when catching a fish, bug, or sea creature, see Catch quote.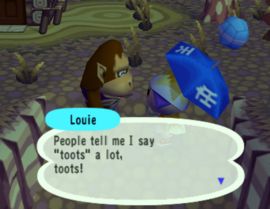 A catchphrase is a word or phrase that a villager repeats during conversation, which they usually say towards the end. Every villager has an initial catchphrase which they will ask the player to change, or by going to the town hall or Resident Services and reporting them (not in Animal Crossing: Wild World). Villagers may also adopt catchphrases from other villagers. For example, Elmer, who has the catchphrase "tenderfoot," may adopt another villager's catchphrase at random without the player being notified. Most catchphrases relate to a villager's personality type, species, name, or appearance. It is believed that many non-villagers, such as Blathers, have catchphrases though many usually use a number of different phrases and words, rather than the single catchphrase. Blathers and Celeste's catchphrases may be "hoot," Tom Nook's catchphrase may be "yes," Brewster's may be "coo," and Porter's may be "eek."
In Animal Crossing: New Leaf, catchphrases are used less obsessively than in previous games, and many of the new villagers have initial catchphrases that seem like nicknames instead of mindless repetition (not to be confused with actual nicknames).
Changing catchphrases
[
edit
]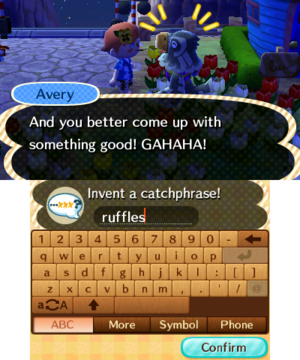 In Animal Crossing

[

edit

]
To change the catchphrase of a villager in Animal Crossing, a villager must ask the player to change it. The player will know when they are being asked when the villager is surprised to see them and follows the player until spoken to. This word cannot be a swear word and cannot have more than 10 characters.
In Wild World

[

edit

]
In Animal Crossing: Wild World, the only way to change the catchphrase of a villager is for them to ask the player for a new one. When a villager wants to talk to the player, they will look at them and show they want attention by an exclamation mark appearing briefly over their head, followed by the villager walking up to the player and/or following them. However, not all occasions where the villagers wants the player's attention may be because of their catchphrase. When two villagers talk and the player does not attend the conversation, and at the end they both walk off happily, the first villager of the couple may borrow the catchphrase of the second one (but not vice versa).
In City Folk

[

edit

]
Similar to Wild World, the player can change a villager's catchphrase by waiting for them to ask the player for their suggestion on a new catchphrase. However, the player can also go to the town hall and asking Pelly or Phyllis to change a villager's catchphrase by selecting the option that asks if it is "rude." The catchphrases it will be changed to include "yesiree" and "right."
In New Leaf

[

edit

]
In Animal Crossing: New Leaf, the methods are the same as in City Folk, except the player must consult Isabelle instead. When reported, the catchphrase will become "uh-huh."
In New Horizons

[

edit

]
In Animal Crossing: New Horizons, the methods remain mostly as they were in City Folk and New Leaf, except sometimes the player can also directly witness a conversation between two villagers where one will admire the other's catchphrase and obtain permission to use it themselves. When reported, instead of the catchphrase being changed to a simple word or phrase, it will be reset to the villager's default catchphrase. For example, Alfonso will go back to saying "it'sa me" when reported. However, the villager may pick up a new catchphrase very soon afterwards, sometimes from the same villager that they obtained their previous new catchphrase from.
Preventions against changing a catchphrase
[
edit
]
A catchphrase can be changed to anything provided it:
Does not exceed the character limit. An error sound will play and a speech bubble may appear.
Does not contain profane words. If entered, a speech bubble will pop up saying "You can't enter that!"
List of villagers' default catchphrases
[
edit
]
Villager
Doubutsu no Mori
Animal Crossing
Doubutsu no Mori e+
Wild World
City Folk
New Leaf
Happy Home Designer
Pocket Camp
New Horizons
Ace
でヤス
ace
でヤス
—
—
—
—
ace
ace
Admiral
ってか
aye aye
ってか
—
—
aye aye
—
aye aye
aye aye
Agent S
—
—
せいやっ
sidekick
sidekick
sidekick
sidekick
sidekick
sidekick
Agnes
—
—
—
—
—
snuffle
snuffle
snuffle
snuffle
Aisle
—
—
あーあ
—
—
—
—
—
—
Al
—
—
—
—
hoo hoo ha
ayyyeee
ayyyeee
ayyyeee
ayyyeee
Alfonso
ワニ
it's a me
ワニ
it'sa me
it'sa me
it'sa me
it'sa me
it'sa me
it'sa me
Alice
—
—
キラリ
guvnor
guvnor
guvnor
guvnor
guvnor
guvnor
Alli
どすえ
graaagh
どすえ
graaagh
graaagh
graaagh
graaagh
graaagh
graaagh
Amelia
カラカラ
eaglet
カラカラ
cuz
cuz
cuz
cuz
—
cuz
Anabelle
—
—
—
snorty
snorty
snorty
snorty
snorty
snorty
Analog
—
—
だもんで
—
—
—
—
—
—
Anchovy
でシ
chuuurp
でシ
chuurp
chuurp
chuurp
chuurp
chuurp
chuurp
Angus
—
—
ふふ
macmoo
macmoo
macmoo
macmoo
macmoo
macmoo
Anicotti
ルンルン
cannoli
ルンルン
—
—
cannoli
cannoli
cannoli
cannoli
Ankha
—
me meow
クフフ
—
me meow
me meow
me meow
me meow
me meow
Annalisa
—
—
—
—
—
gumdrop
gumdrop
gumdrop
gumdrop
Annalise
—
nipper
サヴァ
—
—
nipper
nipper
nipper
nipper
Antonio
—
—
ホントに
honk
honk
honk
honk
honk
honk
Apollo
だワイ
pah
だワイ
pah
pah
pah
pah
pah
pah
Apple
—
—
—
—
—
cheekers
cheekers
cheekers
cheekers
Astrid
だパンク
my pet
だパンク
—
my pet
my pet
my pet
my pet
my pet
Audie
—
—
—
—
—
—
—
foxtrot
foxtrot
Aurora
だジョー
b-b-baby
だジョー
b-b-baby
b-b-baby
b-b-baby
b-b-baby
b-b-baby
b-b-baby
Ava
のよぉ
beaker
のよぉ
—
—
beaker
beaker
beaker
beaker
Avery
—
—
アリョイ
—
skree-haw
skree-haw
skree-haw
skree-haw
skree-haw
Axel
でゴンス
WHONK
でゴンス
—
WHONK
WHONK
WHONK
—
WHONK
Azalea
—
—
メルシィ
—
—
—
—
merci
merci
Aziz
カンジー
RAWR
カンジー
—
—
—
—
—
—
Baabara
アンドゥ
daahling
アンドゥ
daahling
daahling
daahling
daahling
—
daahling
Bam
—
—
—
—
—
prang [nb 1]
boosh
prang [nb 1]
boosh
prang [nb 2]
kablang [nb 3]
kablang
Bangle
なのぉー
growf
なのぉー
—
—
growf
growf
—
growf
Barold
—
—
—
—
—
cubby
cubby
—
cubby
Bea
グー
bingo
グー
—
—
bingo
—
bingo
bingo
Beardo
—
—
—
—
—
whiskers
whiskers
whiskers
whiskers
Beau
—
—
—
—
—
saltlick
saltlick
saltlick
saltlick
Becky
—
—
ハレルヤ
—
chicklet
chicklet
chicklet
—
chicklet
Bella
—
—
ギャハッ
eeks
eeks
eeks
eeks
—
eeks
Belle
にゅう
cuddles
にゅう
—
—
—
—
—
—
Benedict
—
—
ウヒョー
uh-hoo
uh-hoo
uh-hoo
uh-hoo
uh-hoo
uh-hoo
Benjamin
—
—
—
—
—
alrighty
alrighty
—
alrighty
Bertha
そうです
bloop
そうです
—
—
bloop
bloop
bloop
bloop
Bessie
ずら
buttercup
ずら
—
—
—
—
—
—
Bettina
—
—
—
—
eekers
eekers
eekers
—
eekers
Betty
だがね
cluckling
だがね
—
—
—
—
—
—
Bianca
—
—
—
—
—
glimmer
glimmer
glimmer
glimmer
Biff
じゃけん
squirt
じゃけん
—
—
squirt
squirt
—
squirt
Big Top
—
—
うりゃー
villain
villain
villain
villain
villain
villain
Bill
だね
quacko
だね
quacko
quacko
quacko
quacko
quacko
quacko
Billy
よのう
dagnaabit
よのう
—
—
dagnaabit
—
dagnaabit
dagnaabit
Biskit
だイヌ
dawg
だイヌ
dawg
dawg
dawg
dawg
dawg
dawg
Bitty
だピー
my dear
だピー
—
—
my dear
—
my dear
my dear
Blaire
ふふん
nutlet
ふふん
nutlet
nutlet
nutlet
nutlet
nutlet
nutlet
Blanche
—
—
—
—
—
quite so
quite so
quite so
quite so
Bluebear
キュン
peach
キュン
peach
peach
peach
peach
peach
peach
Bob
ネコ
pthhpth
ネコ
pthhpth
pthhpth
pthhpth
pthhpth
pthhpth
pthhpth
Bonbon
—
—
—
—
—
deelish
deelish
deelish
deelish
Bones
ネッ
yip yip
ネッ
yip yip
yip yip
yip yip
yip yip
yip yip
yip yip
Boomer
—
human
ツーツツ
—
human
human
human
human
human
Boone
—
—
—
baboom
baboom
baboom
baboom
baboom
baboom
Boots
だぴょん
munchie
だぴょん
—
—
munchie
—
munchie
munchie
Boris
ブヒッ
schnort
ブヒッ
—
—
schnort
—
schnort
schnort
Bow
—
—
バウ
—
—
—
—
—
—
Boyd
—
—
おうおう
—
—
uh-oh
—
uh-oh
uh-oh
Bree
—
—
なんてね
cheeseball
cheeseball
cheeseball
cheeseball
cheeseball
cheeseball
Broccolo
—
—
ピコ
—
eat it
eat it
eat it
eat it
eat it
Broffina
—
—
—
—
—
cluckadoo
cluckadoo
cluckadoo
cluckadoo
Bruce
—
—
—
—
—
gruff
gruff
gruff
gruff
Bubbles
でガンス
hipster
でガンス
—
—
hipster
hipster
—
hipster
Buck
なんちて
pardner
なんちて
pardner
pardner
pardner
pardner
pardner
pardner
Bud
—
dood
メ~ン
maaan
maaan
maaan
maaan
maaan [nb 2]
shredded [nb 3]
shredded
Bunnie
みたいな
tee-hee
みたいな
tee-hee
tee-hee
tee-hee
tee-hee
tee-hee
tee-hee
Butch
ノン
ROOOOOWF
ノン
ROOOOOWF
ROOOOOWF
ROOOOOWF
ROOOOOWF
ROOOOOWF
ROOOOOWF
Buzz
ッキーッ
captain
ッキーッ
—
—
captain
—
captain
captain
Cally
ララー
WHEE
ララー
—
—
WHEE
WHEE
WHEE
WHEE
Camofrog
アンドゥ
ten-hut
アンドゥ
ten-hut
ten-hut
ten-hut
ten-hut
ten-hut
ten-hut
Canberra
—
—
—
—
—
nuh uh
nuh uh
—
nuh uh
Candi
なのぉー
sweetie
なのぉー
—
—
sweetie
—
sweetie
sweetie
Carmen
んとんと
bumpkin
んとんと
—
—
—
—
—
—
Carmen
—
—
—
—
nougat
nougat
nougat
nougat
nougat
Caroline
ユー
hulaaaa
ユー
hulaaaa
hulaaaa
hulaaaa
hulaaaa
hulaaaa
hulaaaa
Carrie
だフン
little one
だフン
—
—
little one
little one
little one
little one
Carrot
—
—
きゃはっ
—
—
—
—
—
—
Cashmere
ありんす
baaaby
ありんす
—
—
baaaby
—
baaaby
baaaby
Cece
—
—
—
—
—
stay fresh
—
—
—
Celia
—
—
—
—
—
feathers
feathers
feathers
feathers
Cephalobot
—
—
—
—
—
—
—
donk donk
donk donk
Cesar
ウホウホ
highness
ウホウホ
highness
highness
highness
highness
highness
highness
Chabwick
—
—
ブツブツ
—
—
—
—
blargh
blargh
Chadder
—
—
—
—
—
fromage
fromage
fromage
fromage
Chai
—
—
—
—
—
flap flap
—
flap flap
flap flap
Champ
—
—
—
choo CHOO
choo CHOO
—
—
—
—
Charlise
—
—
よいしょ
—
—
urgh
urgh
urgh
urgh
Chelsea
—
—
—
—
—
pound cake
—
pound cake
pound cake
Cheri
—
tralala
なんてね
—
—
tralala
tralala
tralala
tralala
Cherry
—
—
—
—
—
what what
what what
what what
what what
Chester
—
—
—
—
rookie
rookie
rookie
rookie
rookie
Chevre
っぺ
la baa
っぺ
la baa
la baa
la baa
la baa
la baa
la baa
Chico
ナリ
cheeeese
ナリ
—
—
—
—
—
—
Chief
やんか
harrumph
やんか
harrumph
harrumph
harrumph
harrumph
harrumph
harrumph
Chops
—
—
—
—
—
zoink
zoink
—
zoink
Chow
アルヨ
aiya
アルヨ
aiya
aiya
aiya
aiya
—
aiya
Chrissy
—
—
リララ
—
sparkles
sparkles
sparkles
sparkles
sparkles
Chuck
ってんだ
jerky
ってんだ
—
—
—
—
—
—
Clara
—
—
うふふ
—
—
—
—
—
—
Claude
ぶいぶい
hopalong
ぶいぶい
—
—
hopalong
hopalong
hopalong
hopalong
Claudia
—
—
—
—
—
ooh la la
ooh la la
ooh la la
ooh la la
Clay
—
—
—
—
—
thump
thump
—
thump
Cleo
っぺ
sugar
っぺ
—
—
sugar
—
sugar
sugar
Clyde
—
—
—
—
clip clawp
clip clawp
clip clawp
clip clawp
clip clawp
Coach
—
—
—
—
—
stubble
stubble
—
stubble
Cobb
でアール
hot dog
でアール
—
—
hot dog
hot dog
hot dog
hot dog
Coco
はにょ
doyoing
はにょ
doyoing
doyoing
doyoing
doyoing
doyoing
doyoing
Cole
—
—
—
—
—
duuude
duuude
duuude [nb 2]
coooooool [nb 3]
coooooool
Colton
—
—
—
—
—
check it
check it
check it
check it
Cookie
プリリン
arfer
プリリン
—
arfer
arfer
arfer
arfer
arfer
Cousteau
のことよ
oui oui
のことよ
—
oui oui
oui oui
oui oui
oui oui
oui oui
Cranston
—
—
—
—
—
sweatband
sweatband
sweatband
sweatband
Croque
—
—
—
—
—
as if
as if
—
as if
Cube
ペンペン
d-d-dude
ペンペン
d-d-dude
d-d-dude
d-d-dude
d-d-dude
d-d-dude [nb 2]
brainfreeze [nb 3]
brainfreeze
Cupcake
かしら
sugar pie
かしら
—
—
—
—
—
—
Curlos
—
—
ベイビー
—
—
shearly
shearly
—
shearly
Curly
どもども
nyoink
どもども
nyoink
nyoink
nyoink
nyoink
nyoink
nyoink
Curt
—
—
ウム
fuzzball
fuzzball
fuzzball
fuzzball
fuzzball
fuzzball
Cyd
—
—
—
—
—
—
—
rockin'
rockin'
Cyrano
でごわす
ah-CHOO
でごわす
ah-CHOO
ah-CHOO
ah-CHOO
ah-CHOO
ah-CHOO
ah-CHOO
Daisy
だよね
bow WOW
だよね
bow-WOW
bow-WOW
bow-WOW
bow-WOW
bow-WOW
bow-WOW
Deena
マル
sugarbill
マル
woowoo
woowoo
woowoo
woowoo
—
woowoo
Deirdre
—
—
—
—
—
whatevs
whatevs
—
whatevs
Del
—
—
プシュー
—
gronk
gronk
gronk
gronk
gronk
Deli
—
—
—
—
—
monch
monch
monch
monch
Derwin
ね!ママ
derrrr
ね!ママ
derrrr
derrrr
derrrr
derrrr
derrrr
derrrr
Diana
—
—
—
—
—
no doy
no doy
no doy
no doy
Diva
—
—
—
—
—
ya know
ya know
ya know
ya know
Dizzy
だゾウ
woo-oo
だゾウ
woo-oo
woo-oo
woo-oo
woo-oo
—
woo-oo
Dobie
—
ohmmm...
メルシィ
—
—
ohmmm...
—
ohmmm
ohmmm
Doc
ですね
old bunny
ですね
—
—
old bunny
old bunny
—
old bunny
Dom
—
—
—
—
—
—
—
indeedaroo
indeedaroo
Dora
だべ
squeaky
だべ
squeaky
squeaky
squeaky
squeaky
squeaky
squeaky
Dotty
ラン
wee one
ラン
wee one
wee one
wee one
wee one
wee one
wee one
Dozer
グー
zzzzzz
グー
—
—
—
—
—
—
Drago
—
—
—
—
—
burrrn
burrrn
burrrn
burrrn
Drake
—
—
—
quacko
quacko
quacko
quacko
quacko
quacko
Drift
—
brah
ゲロゲロ
brah
brah
brah
brah
brah [nb 2]
dribbit [nb 3]
dribbit
Ed
じゃない
greenhorn
じゃない
—
greenhorn
greenhorn
greenhorn
—
greenhorn
Egbert
だヨ
doodle-duh
だヨ
doodle-duh
doodle-duh
doodle-duh
doodle-duh
doodle-duh
doodle-duh
Elina
—
shrimp
ナマステ
—
—
—
—
—
—
Elise
—
—
—
puh-lease
puh-lease
puh-lease
puh-lease
puh-lease
puh-lease
Ellie
ラン
wee one
ラン
—
—
li'l one
—
li'l one
li'l one
Elmer
だヒヒン
tenderfoot
だヒヒン
tenderfoot
tenderfoot
tenderfoot
tenderfoot
tenderfoot
tenderfoot
Eloise
ルン
tooooot
ルン
tooooot
tooooot
tooooot
tooooot
tooooot
tooooot
Elvis
—
—
—
unh-hunh
unh-hunh
unh-hunh
unh-hunh
unh-hunh
unh-hunh
Emerald
だケロ
sproing
だケロ
—
—
—
—
—
—
Epona
—
—
—
—
—
neigh
—
—
—
Erik
—
—
—
—
—
chow down
chow down
chow down
chow down
Étoile
—
—
—
—
—
fuzzy
—
fuzzy
fuzzy
Eugene
—
—
—
—
—
yeah buddy
yeah buddy
yeah buddy
yeah buddy
Eunice
メェー
lambchop
メェー
—
lambchop
lambchop
lambchop
lambchop
lambchop
Faith
サクッ
aloha
サクッ
—
—
—
—
aloha
aloha
Fang
ですダス
cha-chomp
ですダス
—
cha-chomp
cha-chomp
cha-chomp
cha-chomp
cha-chomp
Fauna
—
—
—
—
—
dearie
dearie
dearie
dearie
Felicity
—
—
ね
—
mimimi
mimimi
mimimi
mimimi
mimimi
Felyne
—
—
—
—
—
nya
nya
—
—
Filbert
でしゅ
bucko
でしゅ
bucko
bucko
bucko
bucko
bucko
bucko
Filly
—
—
—
—
—
hah
hah
—
—
Flash
チルチル
babe
チルチル
—
—
—
—
—
—
Flip
—
—
—
—
—
rerack
rerack
rerack
rerack
Flo
—
—
—
—
—
cha
cha
cha
cha
Flora
—
—
—
—
—
pinky
pinky
pinky
pinky
Flossie
ガハハ
squeaker
ガハハ
—
—
—
—
—
—
Flurry
—
—
—
—
—
powderpuff
powderpuff
powderpuff
powderpuff
Francine
—
—
ルララ
—
karat
karat
karat
karat
karat
Frank
—
—
ダンケ
—
—
crushy
crushy
crushy
crushy
Freckles
ぎょぎょ
ducky
ぎょぎょ
ducky
ducky
ducky
ducky
—
ducky
Frett
—
—
ったく
—
—
—
—
goshers
goshers
Freya
なのだわ
uff da
なのだわ
—
uff da
uff da
uff da
uff da
uff da
Friga
ツルルン
brrrmph
ツルルン
brrrmph
brrrmph
brrrmph
brrrmph
brrrmph
brrrmph
Frita
—
—
—
—
—
oh ewe
oh ewe
oh ewe
oh ewe
Frobert
—
—
クルリ
fribbit
fribbit
fribbit
fribbit
fribbit
fribbit
Fruity
—
—
グァバ
—
—
—
—
—
—
Fuchsia
—
—
—
—
—
girlfriend
girlfriend
girlfriend [nb 2]
precious [nb 3]
precious
Gabi
だっち
honeybun
だっち
honeybun
honeybun
honeybun
honeybun
honeybun
honeybun
Gala
—
—
—
—
snortie
snortie
snortie
snortie
snortie
Ganon
—
—
—
—
—
heh heh
—
—
—
Gaston
ムホッ
mon chou
ムホッ
mon chou
mon chou
mon chou
mon chou
mon chou
mon chou
Gayle
—
—
—
—
—
snacky
snacky
snacky
snacky
Gen
—
—
っしゃあ
—
—
—
—
—
—
Genji
まろ
otaku
まろ
otaku
otaku
otaku
otaku
mochi
mochi
Gigi
—
—
—
—
ribbette
ribbette
ribbette
—
ribbette
Gladys
—
—
ですの
stretch
stretch
stretch
stretch
stretch
stretch
Gloria
—
—
—
—
quacker
quacker
quacker
quacker
quacker
Goldie
ワン
woof
ワン
woof
woof
woof
woof
woof
woof
Gonzo
だがや
mate
だがや
—
—
mate
—
mate
mate
Goose
だコケ
buh-kay
だコケ
buh-kay
buh-kay
buh-kay
buh-kay
buh-kay
buh-kay
Graham
—
—
—
—
—
indeed
indeed
indeed
indeed
Greta
—
—
—
—
—
yelp
yelp
yelp
yelp
Grizzly
だクマ
grrr
だクマ
—
grrr...
grrr...
grrr...
grrr
grrr
Groucho
ワォー
grumble
ワォー
—
grumble
grumble
grumble
grumble
grumble
Gruff
イェーイ
bleh eh eh
イェーイ
—
—
bleh eh eh
bleh eh eh
bleh eh eh
bleh eh eh
Gwen
ウフフ
h-h-h-hon
ウフフ
h-h-h-hon
h-h-h-hon
h-h-h-hon
h-h-h-hon
—
h-h-h-hon
Hambo
だス
yo
だス
—
—
—
—
—
—
Hamlet
—
—
—
—
—
hammie
hammie
hammie
hammie
Hamphrey
—
—
—
—
—
snort
snort
—
snort
Hank
じゃん
buhk buhk
じゃん
—
—
—
—
—
—
Hans
—
—
—
—
—
groovy
groovy
groovy
groovy
Harry
—
—
でっせ
—
beach bum
beach bum
beach bum
beach bum
beach bum
Hazel
—
—
—
—
—
uni-wow
uni-wow
—
uni-wow
Hector
なのだ
coo-HAH
なのだ
—
—
—
—
—
—
Henry
—
—
—
—
—
snoozit
snoozit
snoozit
snoozit
Hippeux
—
—
—
—
—
natch
natch
natch
natch
Holden
—
—
—
—
—
glue stick
—
—
—
Hopkins
—
—
ぷぅ
—
—
thumper
—
thumper
thumper
Hopper
ちぅねん
slushie
ちぅねん
slushie
slushie
slushie
slushie
slushie
slushie
Hornsby
のネン
schnozzle
のネン
—
—
schnozzle
schnozzle
schnozzle
schnozzle
Huck
とかー
hopper
とかー
—
—
hopper
hopper
hopper
hopper
Huggy
エヘ
bear
エヘ
—
—
—
—
—
—
Hugh
とかね
snortle
とかね
snortle
snortle
snortle
snortle
—
snortle
Iggly
—
—
—
—
waddler
waddler
waddler
—
waddler
Iggy
ですじゃ
paaally
ですじゃ
—
—
—
—
—
—
Ike
—
—
ボウズ
—
—
roadie
—
roadie
roadie
Inkwell
—
—
—
—
—
splat
—
—
—
Ione
—
—
—
—
—
—
—
gleam
gleam
Jacob[nb 4]
—
—
っつーの
—
—
ya feel
—
ya feel
ya feel
Jacques
—
—
—
—
—
zut alors
zut alors
zut alors
zut alors
Jambette
ですわよ
croak-kay
ですわよ
—
croak-kay
croak-kay
croak-kay
—
croak-kay
Jane
だゴリ
chimp
だゴリ
—
—
—
—
—
—
Jay
でおます
heeeeeyy
でおます
heeeeeyy
heeeeeyy
heeeeeyy
heeeeeyy
heeeeeyy
heeeeeyy
Jeremiah
にゃむ
nee-deep
にゃむ
nee-deep
nee-deep
nee-deep
nee-deep
nee-deep
nee-deep
Jitters
—
—
—
bzzert
bzzert
bzzert
bzzert
bzzert
bzzert
Joe
—
—
やれやれ
—
—
—
—
—
—
Joey
でヤンス
bleeeeeck
でヤンス
bleeeeeck
bleeeeeck
bleeeeeck
bleeeeeck
—
bleeeeeck
Jūbei
—
—
いかにも
—
—
—
—
—
—
Judy
—
—
—
—
—
—
—
myohmy
myohmy
Julia
—
—
やだわ
—
—
dahling
—
dahling
dahling
Julian
—
—
—
—
—
glitter
glitter
glitter
glitter
June
—
rainbow
アルネ
—
—
rainbow
—
rainbow
rainbow
Kabuki
ぃよぉー
meooo-OH
ぃよぉー
meooo-OH
meooo-OH
meooo-OH
meooo-OH
meooo-OH
meooo-OH
Katt
—
—
—
—
—
purrty
purrty
purrty
purrty
Keaton
—
—
—
—
—
wingo
wingo
wingo
wingo
Ken
—
—
—
—
—
no doubt
no doubt
—
no doubt
Ketchup
—
—
プチ
—
—
bitty
—
bitty
bitty
Kevin
—
—
—
—
—
weeweewee
weeweewee
weeweewee
weeweewee
Kid Cat
—
—
とぉっ
psst
psst
psst
psst
psst
psst
Kidd
—
—
はぁ
—
—
wut
wut
wut
wut
Kiki
だニ
kittycat
だニ
kitty cat
kitty cat
kitty cat
kitty cat
kitty cat
kitty cat
Kit
—
—
だキョ
—
—
—
—
—
—
Kitt
ッポン
child
ッポン
child
child
child
child
child
child
Kitty
フフ
mrowrr
フフ
—
mrowrr
mrowrr
mrowrr
mrowrr
mrowrr
Klaus
—
—
—
—
—
strudel
strudel
strudel
strudel
Knox
—
—
—
—
cluckling
cluckling
cluckling
cluckling
cluckling
Kody
のこころ
okey-dokey
のこころ
grah grah
grah grah
grah grah
grah grah
—
grah grah
Koharu
—
—
ちょいと
—
—
—
—
—
—
Kyle
—
—
—
—
—
alpha
alpha
alpha
alpha
Leigh
だもん
cutie
だもん
—
—
—
—
—
—
Leonardo
—
—
じゃが
—
—
flexin'
flexin'
flexin'
flexin'
Leopold
よな
lion cub
よな
—
—
lion cub
—
lion cub
lion cub
Lily
だゾウ
toady
だゾウ
zzrrbbitt
zzrrbbitt
zzrrbbitt
zzrrbbitt
zzrrbbitt [nb 5]
toady [nb 6]
toady
Limberg
てやんで
squinky
てやんで
squinky
squinky
squinky
squinky
squinky
squinky
Lionel
—
—
—
—
—
precisely
precisely
precisely
precisely
Liz
なの
groonch
なの
—
—
—
—
—
—
Lobo
だぜよ
ah-rooooo
だぜよ
ah-rooooo
ah-rooooo
ah-rooooo
ah-rooooo
ah-rooooo
ah-rooooo
Lolly
—
—
あのね
—
bonbon
bonbon
bonbon
bonbon
bonbon
Lopez
—
—
—
—
—
badoom [nb 1]
buckaroo
badoom [nb 1]
buckaroo
—
badoom
Louie
コング
toots
コング
—
—
hoo hoo ha
odelay
hoo hoo ha
hoo hoo ha
Lucha
—
—
—
—
—
cacaw
cacaw
—
cacaw
Lucky
らしいよ
rrr-owch
らしいよ
rrr-owch
rrr-owch
rrr-owch
rrr-owch
rrr-owch
rrr-owch
Lucy
よぅ
snoooink
よぅ
snoooink
snoooink
snoooink
snoooink
—
snoooink
Lulu
ニョニョ
yaaaawl
ニョニョ
—
—
—
—
—
—
Lulu
—
—
あらあら
—
—
—
—
—
—
Lyman
—
—
—
—
—
chips
chips
chips
chips
Mac
—
—
—
—
woo woof
woo woof
woo woof
—
woo woof
Madam Rosa
—
—
ほほほ
—
—
—
—
—
—
Maddie
ワンツー
yippee
ワンツー
—
—
yippee
yippee
yippee
yippee
Maelle
—
duckling
ふぅ
duckling
duckling
duckling
duckling
duckling
duckling
Maggie
—
—
うん
—
—
schep
—
schep
schep
Mallary
ヨネ
quackpth
ヨネ
quackpth
quackpth
quackpth
quackpth
quackpth
quackpth
Maple
だベア
honey
だベア
honey
honey
honey
honey
honey
honey
Marcel
—
—
—
—
non
non
non
non
non
Marcie
—
—
—
—
—
pouches
pouches
pouches
pouches
Marcy
っきょ
young 'un
っきょ
—
—
—
—
—
—
Margie
—
—
シャララ
tootie
tootie
tootie
tootie
tootie
tootie
Marina
—
—
きゃ
blurp
blurp
blurp
blurp
blurp
blurp
Marlo
—
—
—
—
—
—
—
gabeesh
gabeesh
Marshal
—
—
—
—
—
sulky
sulky
sulky
sulky
Marty
—
—
—
—
—
pompom
—
pompom
pompom
Masa
—
—
てもんだ
—
—
—
—
—
—
Mathilda
ッハ
wee baby
ッハ
wee baby
wee baby
wee baby
wee baby
—
wee baby
Medli
—
—
—
—
—
gimme
—
—
—
Megan
—
—
—
—
—
—
—
sundae
sundae
Megumi
—
—
きゅん
—
—
—
—
—
—
Melba
—
—
—
toasty
toasty
toasty
toasty
toasty
toasty
Meow
—
—
ミャウ
—
—
—
—
—
—
Merengue
—
—
—
—
—
shortcake
shortcake
shortcake
shortcake
Merry
—
—
にゃん
—
mweee
mweee
mweee
mweee
mweee
Midge
キョン
tweedledee
キョン
—
tweedledee
tweedledee
tweedledee
tweedledee
tweedledee
Mint
うっふん
ahhhhhh
うっふん
ahhhhhh
ahhhhhh
ahhhhhh
ahhhhhh
ahhhhhh
ahhhhhh
Mira
—
—
—
—
—
cottontail
cottontail
cottontail
cottontail
Miranda
—
—
なにさ
—
quackulous
quackulous
quackulous
quackulous
quackulous
Mitzi
ニャー
mew
ニャー
mew
mew
mew
mew
mew
mew
Moe
—
—
な
myawn
myawn
myawn
myawn
myawn
myawn
Molly
—
—
—
—
—
quackidee
quackidee
quackidee
quackidee
Monique
ウフーン
pffffft
ウフーン
pffffft
pffffft
pffffft
pffffft
—
pffffft
Monty
—
—
—
g'tang
g'tang
g'tang
g'tang
—
g'tang
Moose
—
—
—
—
shorty
shorty
shorty
—
shorty
Mott
—
—
—
—
cagey
cagey
cagey
—
cagey
Muffy
—
—
—
—
—
nightshade
nightshade
nightshade
nightshade
Murphy
ですばい
laddie
ですばい
—
—
laddie
—
laddie [nb 2]
malarkey [nb 3]
malarkey
Nan
—
—
っしょ
kid
kid
kid
kid
kid
kid
Nana
—
—
—
po po
po po
po po
po po
po po
po po
Naomi
—
—
—
—
—
moolah
moolah
moolah
moolah
Nate
んだ
yawwwn
んだ
—
yawwwn
yawwwn
yawwwn
—
yawwwn
Nibbles
ガジガジ
niblet
ガジガジ
niblet
niblet
niblet
niblet
—
niblet
Nindori
—
—
ドクソウ
—
—
—
—
—
—
Norma
—
—
うふ
—
—
hoof hoo
—
hoof hoo
hoof hoo
Nosegay
でアリ
hoooonk
でアリ
—
—
—
—
—
—
Octavian
タコ
sucker
タコ
sucker
sucker
sucker
sucker
sucker
sucker
O'Hare
アミーゴ
amigo
アミーゴ
—
—
amigo
amigo
amigo
amigo
Olaf
—
—
—
—
—
whiffa
whiffa
—
whiffa
Olive
マグ
sweet pea
マグ
—
—
sweet pea
—
sweet pea
sweet pea
Olivia
なんやん
purrr
なんやん
purrr
purrr
purrr
purrr
purrr
purrr
Opal
ヨン
snoot
ヨン
snoot
snoot
snoot
snoot
snoot
snoot
Otis
なのじゃ
I s'pose
なのじゃ
—
—
—
—
—
—
Oxford
でんがな
bully, eh
でんがな
—
—
—
—
—
—
Ozzie
ククッ
ol' bear
ククッ
—
—
ol' bear
ol' bear
—
ol' bear
Pancetti
—
—
—
—
—
sooey
sooey
sooey
sooey
Pango
だっしー
snooooof
だっしー
snooooof
snooooof
snooooof
snooooof
snooooof
snooooof
Paolo
パオ
pal
パオ
—
—
pal
—
pal
pal
Papi
—
—
—
—
—
haaay
haaay
—
haaay
Pashmina
—
—
—
—
—
kidders
kidders
—
kidders
Pate
メソメソ
quackle
メソメソ
quackle
quackle
quackle
quackle
quackle
quackle
Patricia
—
—
えへっ
—
—
—
—
—
—
Patty
だモー
how now
だモー
how-now
how-now
how-now
how-now
how-now
how-now
Paula
—
—
ヤッホー
—
—
yodelay
yodelay
—
yodelay
Peaches
だポン
neighbor
だポン
—
neighbor
neighbor
neighbor
neighbor
neighbor
Peanut
なのよ
slacker
なのよ
slacker
slacker
slacker
slacker
slacker
slacker
Pecan
つんっ
chipmunk
つんっ
chipmunk
chipmunk
chipmunk
chipmunk
chipmunk
chipmunk
Peck
—
—
—
—
—
crunch
crunch
crunch
crunch
Peewee
ガオ—
li'l dude
ガオ
li'l dude
li'l dude
li'l dude
li'l dude
li'l dude [nb 2]
li'l bitty baby [nb 3]
li'l bitty baby
Peggy
—
—
ぷるる
—
shweetie
shweetie
shweetie
shweetie
shweetie
Pekoe
—
—
—
—
bud
bud
bud
bud
bud
Penelope
—
—
—
—
—
oh bow
oh bow
oh bow
oh bow
Penny
なのさ
ska-WEAK
なのさ
—
—
—
—
—
—
Petri
—
—
—
—
—
—
—
mmmhmm
mmmhmm
Petunia
ザマス
moo la la
ザマス
—
—
—
—
—
—
Phil
—
—
—
—
—
hurk
hurk
—
hurk
Phoebe
—
—
—
—
—
sparky
sparky
sparky
sparky
Pierce
バサバサ
winger
バサバサ
hawkeye
hawkeye
hawkeye
hawkeye
hawkeye
hawkeye
Pierre
—
—
ってね
—
—
—
—
—
—
Pietro
—
—
—
—
—
honk honk
honk honk
honk honk
honk honk
Pigleg
—
arrrn
ヨーソロ
—
—
—
—
—
—
Pinky
わぉ
cubbie
わぉ
wah
wah
wah
wah
wah
wah
Piper
けどー
chickadee
けどー
—
—
chickadee
—
chickadee
chickadee
Pippy
なのサ
li'l hare
なのサ
li'l hare
li'l hare
li'l hare
li'l hare
—
li'l hare
Plucky
—
chicky poo
どうだい
—
—
chicky-poo
—
chicky-poo
chicky-poo
Poko
—
—
へへ
—
—
—
—
—
—
Pompom
だっピ
rah rah
だっピ
rah rah
rah rah
rah rah
rah rah
rah rah
rah rah
Poncho
モン
li'l bear
モン
li'l bear
li'l bear
li'l bear
li'l bear
li'l bear
li'l bear
Poppy
—
—
—
—
nutty
nutty
nutty
nutty
nutty
Portia
フンッ
ruffian
フンッ
ruffian
ruffian
ruffian
ruffian
ruffian
ruffian
Prince
ですだ
burrup
ですだ
—
burrup
burrup
burrup
—
burrup
Puck
さぶー
brrrrrrrrr
さぶー
—
brrrrrrrrr
brrrrrrrrr
brrrrrrrrr
brrrrrrrrr
brrrrrrrrr
Puddles
っちゃ
splish
っちゃ
splish
splish
splish
splish
—
splish
Pudge
んもう
pudgy
んもう
pudgy
pudgy
pudgy
pudgy
pudgy
pudgy [nb 7]
golly [nb 8]
Punchy
—
mrmpht
だのら
mrmpht
mrmpht
mrmpht
mrmpht
mrmpht
mrmpht
Purrl
ふんっ
kitten
ふんっ
kitten
kitten
kitten
kitten
kitten
kitten
Queenie
やっぱし
chicken
やっぱし
chicken
chicken
chicken
chicken
chicken
chicken
Quetzal
ゲロッパ
SKREEE
ゲロッパ
—
—
—
—
—
—
Quillson
—
—
—
—
—
ridukulous
ridukulous
—
ridukulous
Quinn
—
—
—
—
—
—
—
proper
proper
Raddle
—
—
へくしっ
—
—
aaach—
—
aaach—
aaach—
Rasher
まんねん
swine
まんねん
swine
swine
swine
swine
swine
swine
Raymond
—
—
—
—
—
—
—
crisp
crisp
Renée
—
—
—
—
—
yo yo yo
yo yo yo
—
yo yo yo
Reneigh
—
—
—
—
—
—
—
ayup yup
ayup yup
Rex
だオン
cool cat
だオン
—
—
cool cat
—
cool cat
cool cat
Rhoda
コッコ
clucky
コッコ
—
—
—
—
—
—
Rhonda
—
—
—
bigfoot
bigfoot
bigfoot
bigfoot
bigfoot
bigfoot
Ribbot
だロボ
zzrrbbitt
だロボ
toady
toady
toady
toady
toady [nb 5]
zzrrbbitt [nb 6]
zzrrbbitt
Ricky
キッ
nutcase
キッ
—
—
nutcase
nutcase
—
nutcase
Rilla
—
—
—
—
—
hello
—
hello
hello
Rio
リン
li'l chick
リン
—
—
—
—
li'l chick
li'l chick
Rizzo
がってん
squee
がってん
—
squee
squee
squee
squee
squee
Roald
だペン
b-b-buddy
だペン
b-b-buddy
b-b-buddy
b-b-buddy
b-b-buddy
b-b-buddy
b-b-buddy
Robin
さ
la-di-da
さ
la-di-da
la-di-da
la-di-da
la-di-da
la-di-da
la-di-da
Rocco
だぎゃー
hippie
だぎゃー
hippie
hippie
hippie
hippie
hippie
hippie
Rocket
—
—
—
—
—
vroom
vroom
vroom
vroom
Rod
—
—
すっげぇ
ace
ace
ace
ace
ace
ace
Rodeo
—
—
—
chaps
chaps
chaps
chaps
chaps
chaps
Rodney
—
—
—
—
—
le ham
le ham
—
le ham
Rolf
だガー
grrrolf
だガー
grrrolf
grrrolf
grrrolf
grrrolf
grrrolf
grrrolf
Rollo
なのな
beaulch
なのな
—
—
—
—
—
—
Rooney
—
—
—
—
—
punches
punches
punches
punches
Rory
—
—
—
—
—
capital
capital
—
capital
Roscoe
—
—
ブルル
nay
nay
nay
nay
nay
nay
Rosie
チェキ
silly
チェキ
silly
silly
silly
silly
silly
silly
Roswell
—
—
パヨマケ
—
—
—
—
spaaace
spaaace
Rowan
—
mango
まったく
mango
mango
mango
mango
mango
mango
Ruby
—
—
—
li'l ears
li'l ears
li'l ears
li'l ears
li'l ears
li'l ears
Rudy
—
—
—
—
—
mush
mush
mush
mush
Sally
ったら
nutmeg
ったら
nutmeg
nutmeg
nutmeg
nutmeg
—
nutmeg
Samson
チュー
pipsqueak
チュー
pipsqueak
pipsqueak
pipsqueak
pipsqueak
—
pipsqueak
Sandy
だチョー
speedy
だチョー
—
—
speedy
—
speedy
speedy
Sasha
—
—
—
—
—
—
—
hoppity
hoppity
Savannah
ってば
y'all
ってば
y'all
y'all
y'all
y'all
y'all
y'all
Scoot
グワッ
zip zoom
グワッ
—
zip zoom
zip zoom
zip zoom
zip zoom
zip zoom
Shari
—
—
—
—
—
cheeky
cheeky
cheeky
cheeky
Sheldon
—
—
—
—
—
cardio
cardio
—
cardio
Shep
—
—
—
—
—
baaa man
baaa man
baa baa baa
baa baa baa
Sherb
—
—
—
—
—
—
—
bawwww
bawwww
Shinabiru
—
—
シナ
—
—
—
—
—
—
Shino
—
—
—
—
—
—
—
okaaay
okaaay
Shoukichi
—
—
ズン
—
—
—
—
—
—
Simon
—
—
—
zzzook
zzzook
zzzook
zzzook
zzzook
zzzook
Skye
—
—
—
—
—
airmail
airmail
airmail
airmail
Sly
—
—
—
—
—
hoo-rah
hoo-rah
—
hoo-rah
Snake
ニンニン
bunyip
ニンニン
bunyip
bunyip
bunyip
bunyip
bunyip
bunyip
Snooty
たもれ
sniffff
たもれ
—
—
sniffff
—
sniffff
sniffff
Soleil
—
—
—
—
—
tarnation
tarnation
tarnation
tarnation
Sparro
—
—
—
—
—
like whoa
like whoa
like whoa
like whoa
Spike
でヤンキ
punk
でヤンキ
—
—
punk
—
punk
punk
Spork[nb 9]
だブー
snork
だブー
—
snork
snork
snork
—
snork
Sprinkle
—
—
—
—
—
frappe
frappe
frappe
frappe
Sprocket
だメカ
zort
だメカ
—
—
zort
—
zort
zort
Static
ピカッ
krzzt
ピカッ
krzzt
krzzt
krzzt
krzzt
krzzt
krzzt
Stella
ウール
baa-dabing
ウール
—
—
baa-dabing
—
baa-dabing
baa-dabing
Sterling
—
—
—
—
skraaaaw
skraaaaw
skraaaaw
skraaaaw
skraaaaw
Stinky
ダァーッ
GAAHHH
ダァーッ
—
GAAHHH
GAAHHH
GAAHHH
—
GAAHHH
Stitches
—
—
—
stuffin'
stuffin'
stuffin'
stuffin'
stuffin'
stuffin'
Stu
だなっす
moo-dude
だなっす
—
—
moo-dude
moo-dude
mrooooo
mrooooo
Sue E
ざんす
snort
ざんす
—
—
—
—
—
—
Sunny
—
—
でちょ
—
—
—
—
—
—
Sven
とほほ
buh-uh-ud
とほほ
—
—
—
—
—
—
Sydney
だコアラ
sunshine
だコアラ
—
sunshine
sunshine
sunshine
—
sunshine
Sylvana
—
—
ひゅん
—
—
hubbub
—
hubbub
hubbub
Sylvia
—
—
よねー
—
—
boing [nb 1]
joey
boing [nb 1]
joey
—
boing
T-Bone
だっぺ
moocher
だっぺ
—
—
moocher
moocher
moocher
moocher
Tabby
にゃは
me-WOW
にゃは
me-WOW
me-WOW
me-WOW
me-WOW
me-WOW
me-WOW
Tad
だよん
sluuuurp
だよん
—
—
sluuuurp
—
sluuuurp
sluuuurp
Tammi
—
—
—
chimpy
chimpy
chimpy
chimpy
—
chimpy
Tammy
—
—
—
—
—
ya heard
ya heard
ya heard
ya heard
Tangy
みかん
reeeeOWR
みかん
reeeeOWR
reeeeOWR
reeeeOWR
reeeeOWR
reeeeOWR
reeeeOWR
Tank
ですサイ
kerPOW
ですサイ
kerPOW
kerPOW
kerPOW
kerPOW
kerPOW
kerPOW
Tarou
—
—
ワオーン
—
—
—
—
—
—
Tasha
—
—
やるわね
—
—
nice nice
—
nice nice
nice nice
Teddy
ですたい
grooof
ですたい
grooof
grooof
grooof
grooof
grooof
grooof
Tex
—
—
—
—
—
picante
picante
picante
picante
Tia
—
—
—
—
—
teacup
teacup
teacup
teacup
Tiansheng
—
—
—
—
—
—
—
wuwu
wuwu
Tiara
てゆーか
lovey
てゆーか
—
—
—
—
—
—
Tiffany
—
—
ってさ
bunbun
bunbun
bunbun
bunbun
—
bunbun
Timbra
—
—
—
—
—
pine nut
pine nut
pine nut
pine nut
Tipper
—
—
—
pushy
pushy
pushy
pushy
pushy
pushy
Toby
—
—
—
—
—
ribbit
—
ribbit
ribbit
Tom
ちぇっ
me-YOWZA
ちぇっ
—
me-YOWZA
me-YOWZA
me-YOWZA
me-YOWZA
me-YOWZA
Truffles
だわさ
snoutie
だわさ
snoutie
snoutie
snoutie
snoutie
snoutie
snoutie
Tucker
—
—
—
—
—
fuzzers
fuzzers
fuzzers
fuzzers
Tutu
ファイト
twinkles
ファイト
—
twinkles
twinkles
twinkles
twinkles
twinkles
Twiggy
ッピ
cheepers
ッピ
cheepers
cheepers
cheepers
cheepers
cheepers
cheepers
Twirp
でチュン
CHIRP
でチュン
—
—
—
—
—
—
Tybalt
だトラ
grrrRAH
だトラ
—
—
grrrRAH
—
grrrRAH
grrrRAH
Ursala
やーねぇ
grooomph
やーねぇ
—
—
grooomph
—
grooomph
grooomph
Valise
ピョン
tadder
ピョン
—
—
—
—
—
—
Velma
ザーマス
blih
ザーマス
—
—
blih
blih
—
blih
Vesta
なのね
baaaffo
なのね
baaaffo
baaaffo
baaaffo
baaaffo
baaaffo
baaaffo
Vic
—
—
—
—
—
cud
cud
cud
cud
Viché
—
—
—
—
—
splatastic
—
—
—
Victoria
—
—
いくわよ
sugar cube
sugar cube
sugar cube
sugar cube
—
sugar cube
Violet
—
—
アイヤ
—
faboom
sweetie
sweetie
—
sweetie
Vivian
—
—
だわよ
—
—
piffle
—
piffle
piffle
Vladimir
やんけ
nyet
やんけ
—
nyet
nyet
nyet
—
nyet
W. Link
—
—
—
—
—
ruff ruff
—
—
—
Wade
—
—
だからね
—
—
so it goes
—
so it goes
so it goes
Walker
—
—
バウ
wuh
wuh
wuh
wuh
wuh
wuh
Walt
—
—
—
—
—
pockets
pockets
—
pockets
Wart Jr.
だぎゃ
grr-ribbit
だぎゃ
grr-ribbit
grr-ribbit
grr-ribbit
grr-ribbit
—
grr-ribbit
Weber
ピヨ
quaa
ピヨ
—
—
quaa
—
quaa
quaa
Weldon
—
—
ムーチョ
—
—
—
—
—
—
Wendy
—
—
—
—
lambkins
lambkins
lambkins
lambkins
lambkins
Whitney
—
—
—
snappy
snappy
snappy
snappy
snappy
snappy
Willow
—
—
ですのよ
—
bo peep
bo peep
bo peep
bo peep
bo peep
Winnie
みゃあ
hay-OK
みゃあ
—
hay-OK
hay-OK
hay-OK
—
hay-OK
Wolfgang
のな
snarrrl
のな
snarrrl
snarrrl
snarrrl
snarrrl
snarrrl
snarrrl
Woolio
ヨロシク
biz-aaa
ヨロシク
—
—
—
—
—
—
Yodel
—
odelay
ヨホホー
—
—
—
—
—
—
Yuka
アラ
tsk tsk
アラ
tsk tsk
tsk tsk
tsk tsk
tsk tsk
tsk tsk
tsk tsk
Zell
—
—
よねー
—
—
pronk
pronk
pronk
pronk
Zoe
だモン
whiiifff
だモン
—
—
—
—
zoozooroo
zoozooroo
Zucker
—
—
—
—
—
bloop
bloop
bloop
bloop