Rebuild the town
From Nookipedia, the Animal Crossing wiki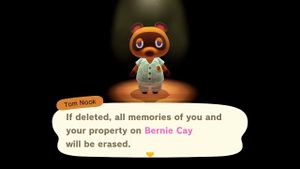 Re-create the town (known as rebuild town in Wild World and City Folk and build a new town in Animal Crossing) is an option in the Animal Crossing series that allows the player to delete their existing town and create a new one. When selecting the option to delete the save data, the character that the player sees when booting up the game will be shocked and will warn them that the process cannot be reversed.
Appearances
[
edit
]
Prior to Welcome amiibo

[

edit

]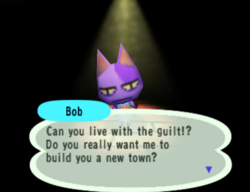 In Animal Crossing, Animal Crossing: Wild World, Animal Crossing: City Folk, and Animal Crossing: New Leaf prior to the Welcome amiibo update, selecting "re-create the town" deletes all data in the existing town and the new town is not affected in any way by it.
In Welcome amiibo

[

edit

]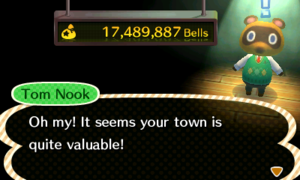 In Animal Crossing: New Leaf - Welcome amiibo, once the town's Town Tree has reached its third stage of growth (50 days and 50 hours), selecting "re-create the town" causes Tom Nook to appear. Nook offers to purchase the player's town, giving a price of several million Bells that varies based on the player's progress; the Bells from the player's savings are added to the total, and the player can also choose to sell their catalog. The player then chooses to have all Bells instantly deposited into the ABD in the new town or deposited monthly with interest. In the new town, the player has access to the Bells earned in the sale, their catalog (if it is not also sold), and any public works projects unlocked in the previous town.[nb 1]
In New Horizons

[

edit

]
In Animal Crossing: New Horizons, islands cannot be deleted in-game. Tom Nook, who allows non-Resident Representative players to be deleted, will tell the Resident Representative to delete their data via the Nintendo Switch system settings to delete their island. Like in games prior to Animal Crossing: New Leaf - Welcome amiibo, the new island is not affected by the previous one; however, the dreams of deleted islands are not deleted and can still be visited.[1]
Other ways
[
edit
]
Aside from the obvious manual deletion methods stated above, the games can also be deleted as a result of corruption of saved data, or a glitch that is irreversible by normal means.
Gallery
[
edit
]
↑

Only public works projects requested by villagers are unlocked in the new town.
References
[
edit
]