Mii mask
From Nookipedia, the Animal Crossing wiki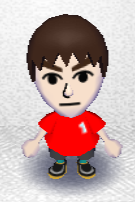 The Mii mask is a type of headgear in Animal Crossing: City Folk and Animal Crossing: New Leaf that covers the player's head with that of a Mii, a system-level digital avatar that can be created on the Wii or Nintendo 3DS.
The player can obtain a Mii mask by selecting the "makeup"[nb 1] option when speaking to Harriet at Shampoodle. Harriet then has the player select one Mii from their system to be the basis of the mask. The makeover is free the first time the player does this, and each subsequent time costs 3,000 Bells. Once the player has received a makeover, the Mii mask can be worn and taken off via an icon in the designs menu. The Mii mask acts as a helmet, taking up both the player's headgear and accessory slots. While wearing a Mii mask, the player's skin tone is changed to match the Mii's in City Folk and beginning in the Welcome amiibo update of New Leaf.[nb 2]
The Mii used for the Mii mask can be changed by getting another makeover, which overwrites the previous one. If the Mii used for the Mii mask is altered on the system, the Mii mask updates as well; likewise, if the Mii is deleted from the system, the Mii mask is also deleted.
Gallery
[
edit
]

Fashion