Animal Crossing Calculator
From Nookipedia, the Animal Crossing wiki
Animal Crossing Calculator


Nintendo DSi home menu icon

Developer(s)
Nintendo
Publisher(s)
Nintendo
Platform(s)
Nintendo DSi (DSiWare)
Nintendo 3DS (eShop)
Release date(s)
Nintendo DSi:
February 25, 2009[1]
May 4, 2009[2]
June 5, 2009[3]
June 5, 2009
February 11, 2010[4]
Nintendo 3DS:
June 6, 2011
June 6, 2011
July 7, 2011[3]
June 6, 2011
Ratings
PEGI:  3

Media
Digital download
Animal Crossing Calculator is an Animal Crossing-themed calculator application released for the Nintendo DSi as DSiWare in 2009. Prior to the closure of the Nintendo DSi Shop on March 31, 2017, the application could be purchased for 200 DSi Points.
It was also released on the Nintendo 3DS eShop in 2011 for US$1.99. Animal Crossing Calculator became unavailable to purchase following the closure of the Nintendo 3DS eShop for new purchases on March 27, 2023.[5]
In Japan, Animal Crossing Calculator was released in tandem with its Mario counterpart, Mario Calculator, while in North America, it released alongside Animal Crossing Clock.
Features
[
edit
]
Animal Crossing Calculator has two modes: a standard calculator and a unit converter.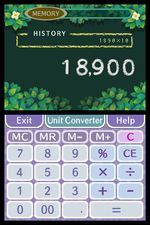 Calculator – A basic calculator that can add, subtract, multiply, and divide numbers and percentages up to thirteen digits long. If the answer to the typed equation contains all of the same digit (e.g. 111), Tom Nook and balloons will appear on the top screen; if the answer contains only sequential digits (e.g. 123 or 321), Tom Nook and flowers will appear. The calculator keeps a history of past computations, which can be scrolled through with the L and R buttons.
Unit Converter – Can convert the measurements of length, area, weight, speed, volume, temperature, time, and age.
Length – Can convert between centimeters, meters, kilometers, inches, feet, yards, and miles.
Area – Can convert between square meters, square feet, square yards, square miles, hectares, and acres.
Weight – Can convert between grams, kilograms, ounces, pounds, carats, and metric tons.
Speed – Can convert between meters per second, meters per minute, kilometers per hour, the speed of light, feet per second, miles per hour, knots, and mach.
Volume – Can convert between milliliters, liters, cubic meters, fluid ounces, gallons, and cups.
Temperature – Can convert between Celsius, Fahrenheit, and kelvin.
Time – Can convert between seconds, minutes, hours, days, weeks, years, and centuries.
Age – Can convert between human, cat, small dog, large dog, hamster, parakeet, rabbit, and horse years.
DSi Shop description
[
edit
]
American English
[
edit
]
Need to figure out what you owe Tom Nook or the amount in your savings account? Animal Crossing Calculator features the full functionally of a traditional calculator, including a Memory key and the ability to display up to 13 digits, and adds a layer of atmosphere unique to Animal Crossing. Use the Unit Converter to turn one unit of measure into another (such as length, weight, volume, age, and others), or track the history of calculations you've performed with ease. Listen to Animalese pronunciation of numbers when you process them and watch for a favorite Animal Crossing character to appear when your results meet certain criteria. Look no further for a fun, but practical, way to experience the charm of Animal Crossing!
British English
[
edit
]
Make maths more fun with this Animal Crossing-themed calculator! Simply use the Touch Screen to enter figures and make calculations, accompanied by classic Animal Crossing visuals and sounds. In addition to a fully-featured calculator, Animal Crossing Calculator also includes a unit converter for converting to and from a variety of different measurements such as weight, length, speed, temperature and more. You can even convert human years to and from animal years!
References to the Animal Crossing series

[

edit

]
The voice that speaks when a number is typed in is also heard when the player types something on the keyboard.
The "ta-dah" sound that plays during the Nook and balloons Easter egg is the same sound that plays when the player shows off a bug or fish.
The sound that plays during the Nook and flowers Easter egg is the same sound as when the player drinks coffee.
The sounds that play when the player taps the on-screen buttons are the option menu sounds from the games.
Reception
[
edit
]
Animal Crossing Calculator received mixed reviews from critics, who criticized its lack of content. Corbie Dillard of Nintendo Life gave the application a score of 5/10, praising the unit converter and the Animal Crossing theme but questioning the application's practical use.[6] Craig Harris of IGN gave it a score of 6/10, also praising the unit converter and calling the application more useful than Animal Crossing Clock.[7]
Gallery
[
edit
]
Names in other languages
[
edit
]
ニンテンドーDSi電卓 どうぶつの森タイプ
Nintendō DSi Dentaku Doubutsu no Mori Taipu
Nintendo DSi Calculator Animal Forest Type

---

iQue DSi计算器 动物森林款
Que DSi Jìsuàn Qì Dòngwù Sēnlín Kuǎn
iQue DSi Calculator Animal Forest Edition

---

Animal Crossing - Taschenrechner
Animal Crossing Calculator

---

Calculadora Animal Crossing
Animal Crossing Calculator

---

Calculatrice Animal Crossing
Animal Crossing Calculator

---

Calcolatrice di Animal Crossing
Animal Crossing Calculator

---

Calculadora Animal Crossing

Animal Crossing Calculator
References
[
edit
]
External links
[
edit
]