Animal Crossing Clock
From Nookipedia, the Animal Crossing wiki

Nintendo DSi home menu icon

Developer(s)
Nintendo
Publisher(s)
Nintendo
Platform(s)
Nintendo DSi (DSiWare)
Nintendo 3DS (eShop)
Release date(s)
Nintendo DSi:
April 1, 2009[1]
May 4, 2009[2]
June 5, 2009[3]
June 5, 2009
January 21, 2010[4]
Nintendo 3DS:
June 6, 2011
June 6, 2011
July 7, 2011[3]
June 6, 2011
Genre(s)
Clock
Ratings
PEGI:  3

Media
Digital download
Animal Crossing Clock is an Animal Crossing-themed clock application released for the Nintendo DSi as DSiWare in 2009. Prior to the closure of the Nintendo DSi Shop on March 31, 2017, the application could be purchased for 200 DSi Points.
It was also released on the Nintendo 3DS eShop in 2011 for US$1.99. Animal Crossing Clock became unavailable to purchase following the closure of the Nintendo 3DS eShop for new purchases on March 27, 2023.[5]
In Japan, Animal Crossing Clock was released in tandem with its Mario counterpart, Mario Clock, while in North America, it released alongside Animal Crossing Calculator.
Features
[
edit
]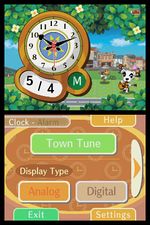 Animal Crossing Clock has two main modes: a clock and an alarm. There is also a settings menu where the user can offset the time from the Nintendo DSi system time. If no buttons are pressed for thirty seconds, the application goes into an idle mode, only displaying the top screen.
Clock – Displays the current date and time in either an analog or digital format. In the digital format, the user can choose between the 12-hour or 24-hour format. The user can also create a town tune that plays at each hour. The clock is always displayed on the top screen and features a scrolling background themed after Animal Crossing: City Folk, with various special characters from the game appearing throughout. The sky in the background reflects the time of day.
Alarm – Up to three alarms can be set up that can play one of three tracks from Wild World and City Folk, chosen by the user: the song that plays when catching a fish or bug, Mr. Resetti's theme, and the song that plays at 1 PM. Sounds created in the Nintendo DSi Sound application can also be chosen. The volume of each alarm can be changed, and a snooze option is available. Balloons appear on the top screen when an alarm goes off.
DSi Shop description
[
edit
]
American English
[
edit
]
Enjoy the atmosphere of Animal Crossing in a whole new way with Animal Crossing Clock. Select from either an analog or digital clock and set up to three alarms (with snooze functionality for those that need it). Make your own Town Tune or use sounds created in Nintendo DSi Sound, and assign them to the alarms you've set. Use the system's internal clock or offset the time however you like. Then sit back and watch as different characters from Animal Crossing appear and the color of the sky changes as time passes. Never miss an important appointment with one of your Animal Crossing friends again!
British English
[
edit
]
With Animal Crossing Clock, you'll always have the time wherever you go! Wake up with your favourite Animal Crossing music, or simply use the Nintendo DSi as a desktop clock complete with an authentic Animal Crossing background. You can even compose a Town Tune to play at the top of every hour! Customise the clock to your liking: choose from analogue or digital displays, 12-hour or 24-hour modes, and set up to three separate alarms with different Animal Crossing tunes or use your own saved sounds from the Nintendo DSi Sound application.
Reception
[
edit
]
Animal Crossing Clock received mostly negative reviews from critics, who criticized its lack of content. Corbie Dillard of Nintendo Life found the application redundant with the Nintendo DSi's built-in clock and called it "basically a waste of 200 Nintendo Points".[6] Craig Harris of IGN shared similar opinions, in addition to criticizing it for not being bundled with Animal Crossing Calculator.[7]
Gallery
[
edit
]
Names in other languages
[
edit
]
ニンテンドーDSi時計 どうぶつの森タイプ


Nintendo DSi Tokei Doubutsu no Mori Taipu
Nintendo DSi Clock Animal Forest Type

---

iQue DSi时钟 动物森林款


iQue DSi Shízhōng Dòngwù Sēnlín Kuǎn
iQue DSi Clock Animal Forest Edition

---

Animal Crossing-Uhr

Animal Crossing Clock

---

Reloj Animal Crossing

Animal Crossing Clock

---

Horloge Animal Crossing

Animal Crossing Clock

---

Orologio di Animal Crossing

Animal Crossing Clock

---

Relógio Animal Crossing



Animal Crossing Clock
References
[
edit
]
External links
[
edit
]