Nintendo GameCube
From Nookipedia, the Animal Crossing wiki


Manufacturer
Nintendo
Type
Home console
Release date(s)
September 14, 2001
November 18, 2001
May 3, 2002
May 17, 2002
Media
GameCube Game Disc, Game Pak (Game Boy Player required)
Input
Nintendo GameCube Controller
WaveBird Controller
Game Boy Advance
Predecessor
Nintendo 64
Successor
Wii

The Nintendo GameCube[nb 1] (officially abbreviated as GCN) is a home video game console created by Nintendo. It is the successor to the Nintendo 64 and predecessor to the Wii. The Nintendo GameCube is the first Nintendo console to use discs as its game type, albeit with discs similar to mini DVDs, as they were 8cm in diameter. In addition, the GameCube also introduced a variety of connectivity options to Nintendo consoles, and was the third Nintendo console, after the Nintendo 64DD, to support online play officially, via the Nintendo GameCube Broadband Adapter and Modem Adapter, although only a few games supported it. It also enabled connectivity to the Game Boy Advance to access exclusive features of certain games or to use the portable system as a controller for the Game Boy Player.
Animal Crossing, an expanded version of Doubutsu no Mori, was released on the GameCube in 2001 and was later expanded and re-released in Japan as Doubutsu no Mori e+ in 2003. Additionally, Super Smash Bros. Melee, which features trophies from the Animal Crossing series, was released on the console in 2001 and later became the console's best-selling game.
The console was released on September 14, 2001 in Japan, November 18, 2001 in North America, May 3, 2002 in Europe, and May 17, 2002 in Australia. The GameCube sold 21.74 million units worldwide, and was discontinued in mid-2007. The GameCube's games and controllers are also backwards-compatible with the original model of its successor, the Wii. Future Nintendo consoles, such as the Wii U and Nintendo Switch, only have support for the GameCube Controllers through the use of a USB adapter, although the Wii U can only use the GameCube Controllers for Super Smash Bros. for Wii U.
Game Boy Advance link cable
[
edit
]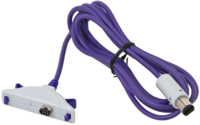 The Game Boy Advance link cable is a cable manufactured by Nintendo that allows connection between the Nintendo GameCube and Game Boy Advance. It is used in Animal Crossing to allow access to the island. The player can also play NES games on the GBA with it. With the cable, the player can also get designs for free, and design patterns at their house.
Appearances in the Animal Crossing series

[

edit

]
External links
[
edit
]
Nintendo GameCube on other wikis
Nintendo video game consoles