Peewee and Hamlet's Big Race
From Nookipedia, the Animal Crossing wiki
Peewee and Hamlet's Big Race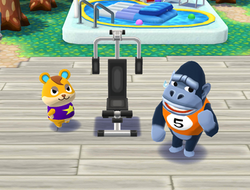 Scrapbook image of Peewee and Hamlet's Big Race

Prerequisites
Invite and reach

Lv. 10 with:


Hamlet

Peewee
Name in other languages
ハムスケのトレーニング
N/A
哈姆的鍛鍊
햄스틴의 트레이닝
Jojo et Gogo, un duo à biscotos
Jojo et Gogo, duo athlétique
La carrera de Bombo y Lotar
La carrera de Bombo y Lotar
Kong e Amleto fanno a gara
N/A
Manfreds & Hamids Wettstreit
N/A
"Hamlet and Peewee are going head-to-head in a training competition! Who will triumph?"
— Scrapbook Memory description
Peewee and Hamlet's Big Race is a Scrapbook Memory that the player can unlock in Animal Crossing: Pocket Camp. In order to unlock this memory, the player must have invited Hamlet and Peewee to the campsite and have each of the villager up to Level 10.
Synopsis
[
edit
]
Names in other languages
[
edit
]
ハムスケのトレーニング


Hamusuke no torēningu
Hamusuke Training

---

햄스틴의 트레이닝


haemseutin-ui teuleining
Hamsteen Training

---

哈姆的鍛鍊


Hā mǔ de duànliàn
Hamm's Workout

---

Manfreds & Hamids Wettstreit

---

La carrera de Bombo y Lotar

---

Jojo et Gogo, un duo à biscotos

---

Jojo et Gogo, duo athlétique

---

Kong e Amleto fanno a gara