Let's Make Curry!
From Nookipedia, the Animal Crossing wiki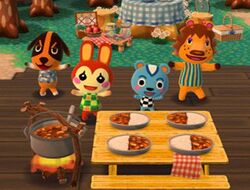 Scrapbook image of Let's Make Curry!

Prerequisites
Invite and reach

Lv. 10 with:


Butch

Bunnie

Filbert

Rex
Name in other languages
カレーを作ろう!
N/A
來做咖哩吧!
카레를 만들자!
Curry et chuchotements
Curry et chuchotements
Hoy cenamos curry
Hoy cenamos curry
Curry a destra e a manca!
N/A
Chili mit ganz viel Carne!
N/A
"Everyone's getting together to make curry! Does anyone happen to have a recipe?"
— Scrapbook Memory description
Let's Make Curry! is a Scrapbook Memory in Animal Crossing: Pocket Camp. To unlock this memory, the player must have invited Butch, Bunnie, Filbert, and Rex to the campsite and have each of the villager up to Level 10.
Synopsis
[
edit
]
The memory first opens showing Rex deep in thought, struggling to make a good decision. Walking up to him, Filbert greets Rex and asks him what he's thinking thinking, causing Rex to turn around and is surprised to see that Bunnie and Butch are also present. Overwhelmed, Rex states that he was only trying to decide whether he should eat a snack or make dinner. Butch, laughing at this, humorously states that it sounds like a real crisis, and apologizes for the interruption. Considering the situation, Bunnie suggests gathering together and cooking, as it would not only be fun but also delectable.
Butch agrees to this, though only if they make spicy curry, his favorite dish. The mention of this food quickly excites Rex, stating that they start immediately, as his mouth is already watering. Filbert is also excited at this, asking them to tell him when preparations are made. However, Butch interrupts him, stating that Filbert cannot slack off while the rest of them are working, despite the fact that Filbert does not know how to make curry. Comforting him, Bunnie states that she doesn't know either, but figures that at least one of them does. Rex, in agreement, humorously states that the only thing he can make is a spoon made of peanut butter.
Dissonant by this, Bunnie comes to the conclusion that only Butch knows the best recipe, frustratingly asking Butch if he knows a recipe. Butch, somewhat offended, bluntly says that of course, he can make curry. Despite this, however, Butch says to himself that it could backfire in a bad way, while Bunnie gleefully states that they are all set, also sighing to herself that she's grateful that at least someone knows what they are doing. Filbert then jumps in, even saying that it would be nice if he learned how to make curry himself. At that moment, everyone begins to cook, showing a montage of all four of them getting together to make the dish. Finally, the food is complete, satisfying the player, who speaks through a blue text box.
Gallery
[
edit
]
Names in other languages
[
edit
]
カレーを作ろう!


Karē o tsukurou!
Let's make curry!

---

카레를 만들자!


Kaleleul mandeulja!
Let's make curry!

---

來做咖哩吧!


Unknown

---

Chili mit ganz viel Carne!

---

Hoy cenamos curry

---

Curry et chuchotements

---

Curry a destra e a manca!