Jay's Plucky Potluck
From Nookipedia, the Animal Crossing wiki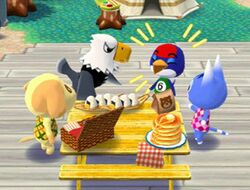 Scrapbook image of Jay's Plucky Potluck

Prerequisites
Invite and reach

Lv. 3 with:


Rosie

Goldie

Apollo

Jay
Name in other languages
ピクニックに行こう!
N/A
去野餐吧!
피크닉을 가자!
Un pique-nique sportif
Un pique-nique sportif
El pícnic extremo de Jota
El pícnic extremo de Jairo
L'ardito picnic di Jet
N/A
Jan auf dem Muskel-Marsch
N/A
"Jay gets fired up and invites everyone on a hike. Or is it a picnic?"
— Scrapbook Memory description
Jay's Plucky Potluck is a Scrapbook Memory in Animal Crossing: Pocket Camp. To unlock this memory, the player must have invited Rosie, Goldie, Apollo, and Jay to the campsite and have each of the villager up to Level 3.
Synopsis
[
edit
]
The memory opens with Apollo, Rosie, and Goldie having fun, with Jay walking up to them and asking if everyone is ready for a "muscle march". Goldie is confused over what Jay says, leaving Jay to explain what a "muscle march" is. Rosie laughs at Jay and corrects him by explaining a "muscle march" is a hike. Although Rosie agrees on the idea, Apollo disagrees, and pokes fun at how weak Jay is. Annoyed, Jay insults the group for attempting to stray him away from his vision: having everyone walk with him while shouting "inspirational slogans" to everyone, and then proceeding to doing jumping jacks and drinking protein shakes at the summit.
In light of this reconfirmation, Goldie reconsiders Jay's decision with the fact that the mountain Jay is talking about is intended to be steep, and instead suggest to the group that they instead go to a beach and relax in the sunshine. Rosie remains fairly neutral on both decisions, but Apollo bluntly corrects Rosie's statement and is annoyed by the fact that no one can make a firm decision. The group proceeds to discuss on what they want to eat, with Jay suggesting to bring his protein shakes, Rosie suggesting pancakes, Goldie suggesting to have a blend of pancakes and protein shakes to calm the former two from arguing, and Apollo suggesting that everyone just bring their own food. The group chooses to go with Apollo's idea, with Rosie suggesting to turn the event into a potluck.
A few moments later, everyone returns with their respective foods, with Jay bringing his protein shakes, Goldie bringing sandwiches, Rosie bringing pancakes, and Apollo bringing rice balls. When Apollo asks on where the group wants to go, Goldie realizes that they had spent too much time arguing about what food to bring that they've completely ignored on where to go. Rosie places the blame on Jay for being so obsessed with his gains, but Jay ends up suggesting to the group to do preloading, in which they eat before a major workout in exchange for said workout being much harder. Jay then kicks off the potluck, humorously stating that they are sure to come to a decision by the time the food is finished, angering Apollo and confusing Goldie.
Gallery
[
edit
]
Names in other languages
[
edit
]
ピクニックに行こう!


Pikunikku ni ikou!
Let's go on a picnic!

---

피크닉을 가자!


Pikeunig-eul gaja!
Let's go picnic!

---

去野餐吧!


Unknown

---

Jan auf dem Muskel-Marsch

---

El pícnic extremo de Jota

---

El pícnic extremo de Jairo

---

Un pique-nique sportif

---

L'ardito picnic di Jet