A Friendly Face-Off
From Nookipedia, the Animal Crossing wiki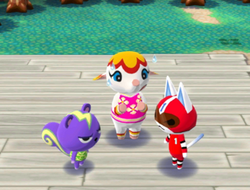 Scrapbook image of A Friendly Face-Off

Prerequisites
Invite and reach

Lv. 7 with:


Static

Kid Cat

Margie
Name in other languages
トラブル発生!?
N/A
問題發生?!
문제 발생!?
Concours de grimaces
Concours de grimaces
Los que no se pelean se desean
Un enfrentamiento amigable
Un faccia a faccia tra amici
N/A
Ein Wettstreit unter Freunden
N/A
"Static and Kid Cat are fighting! Can Margie resolve their issue?"
— Scrapbook Memory description
A Friendly Face-Off is a Scrapbook Memory in Animal Crossing: Pocket Camp. To unlock this memory, the player must have invited Static, Kid Cat, and Margie to the campsite and have each of the villager up to Level 7.
Synopsis
[
edit
]
The memory opens with Static and Kid Cat, with Static being in thought, asking Kid Cat to give him a minute. Static asks Kid Cat if he thinks he's a hero, telling him that he looks like a zero instead. Kid Cat, in anger, tells Static that his comment was the meanest thing someone ever said to him. Kid Cat tries to come up with an insult torwards Static, but cannot think of one, and becomes angry. Margie walks in, shocked and asking what's going on. Margie then asks the two to stop. Kid Cat greets Margie and asks what she's doing. Margie then replies that the two are the ones doing something. The two are surprised, while Margie is confused. Static gets what Margie is saying and laughs. He then asks Margie if she's heard of friends so close, that they fight all the time. Kid Cat then says that he just found out about it, and figured if they fought a bunch, they'd be better friends. Margie then apologizes for stepping in the middle of their fight without knowing what was going on. Static tells Margie not to worry, and that they aren't serious about it. He then says that starting a fight is one thing, but comebacks don't come easy. Kid Cat agrees, saying he couldn't come up with anything fast enough, so he just ended up yelling.
Margie offers to help, grabbing her insult encyclopedia. Static says there isn't a need to go that far, then questions himself, asking if it's an actual thing. Kid Cat agrees with Static and laughs, saying it wasn't like they were fighting for real. Margie then suggests for the two to fight with their faces instead of their words. The two are confused, with Static asking if she meant those old-fashioned headbutt contests. Margie replies she meant using their facial expressions to see who can make the scariest face. Suddenly, Margie goes angry, shouting as an example. The two are shocked, Static saying he didn't know she had it in her. Kid Cat says he was glad he forgot to take his energy supplements that day, or his heart would be toast. Margie laughs, apologizing, and stating she wins the round. Static says that it sounds like a real face-off. Kid Cat says that he'll win, no matter what they call it. Then he asks if they should invite the player to their contest. Margie agrees, saying she wants to know what faces the player has hidden.
Names in other languages
[
edit
]
トラブル発生!?


Toraburu hassei!?
Trouble Occurs!?

---

문제 발생!?


munje balsaeng!?
A Problem is Happening!?

---

問題發生?!


Unknown

---

Ein Wettstreit unter Freunden

---

Los que no se pelean se desean

---

Un enfrentamiento amigable

---

Concours de grimaces

---

Un faccia a faccia tra amici