Cameos
Jump to navigation
Jump to search
Throughout the history of the Animal Crossing series, many games have featured cameo appearances from the series, along with the series featuring cameo appearances from other games. Below is a list of all cameos in or about the Animal Crossing series
References to the Animal Crossing series in other video games

[

edit

]
One of Donkey Kong's idle animations is pulling out a blue 3DS XL with sound effects being heard from one of four random 3DS games. One of these games is Animal Crossing: New Leaf. He can be heard either starting up the game, coming out of a house, or digging something up. This is removed from the Nintendo Switch rerelease.
In Kirby Super Star Ultra, there is a subgame called "The Great Cave Offensive". The objective of it is to escape with the most items possible, and some of these items are references to other games from Nintendo. One of these items is the Gold Watering Can, an obvious reference to the Golden Watering Can.
In Phantom Hourglass, the Postman asks Link not to shoot him down with a slingshot. This could be a reference to Pete in Wild World.
Mario Kart 8

[

edit

]
Animal Crossing cameos made an appearance in the Wii U game Mario Kart 8 through the Animal Crossing x Mario Kart 8 downloadable content pack (DLC). Released on April 23, 2015, the DLC includes the characters Isabelle and the human player as playable racers. One of the DLC's two new cups, the Crossing Cup, is based on Animal Crossing. Of the four new vehicles, two are also Animal Crossing themed (the City Tripper and the Streetle). The Crossing Cup's signature track (named 'Animal Crossing') has players racing through an Animal Crossing village whose season changes each time the course is played.
Style Savvy: Trendsetters

[

edit

]
For the release of Animal Crossing: New Leaf in 2013, Style Savvy: Trendsetters has released two downloadable brands for their character in-game. One called "Club LOL" based on Club LOL, and "GracieGrace" based on Gracie. In the PAL version Nintendo Presents: New Style Boutique, the Club LOL inspired brand is called "Club Design" and Gracie's brand is "Giraffissima". The Japanese version has Club 444 instead of Club LOL, as it's the name of the club in-game.
The Club LOL brand has one item, DJ KK Concert Tee. It was available for download in June 2013.
The GracieGracie brand has five items - Beret, Sunglasses, Slip Dress, Hangbag and Tall Boots. It was available for download in May 2013.
Style Savvy: Fashion Forward

[

edit

]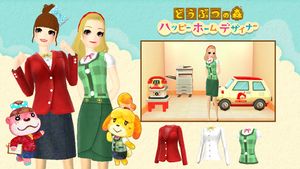 To celebrate the release of Animal Crossing: Happy Home Designer in 2016, a special set was released for download. It included two clothing items inspired by Lottie - Lottie's Jacket and Lotties' Blouse, a shirt inspired by Isabelle - Town Secretary Shirt. Besides clothing items, three doll house items are included as well - Nook's Homes Company Car, Nook's Homes Photocopier and Nook's Homes amiibo Phone. This game also has amiibo support - scanning the Isabelle's amiibo or amiibo card unlocks the Town Secretary Shirt (available in 5 colors) and any other amiibo card unlocks Star Hairpin.
In Super Smash Bros. Melee, three trophies (Mr. Resetti, Tom Nook, and Totakeke) from the Animal Crossing series are obtainable.
In Super Smash Bros. Brawl, a wider variety of Animal Crossing trophies are obtainable, along with music, stickers, and even a stage known as Smashville. On the stage, red balloons float around with food attached to the bottom, which is a reference to floating presents. A new item, the Pitfall Seed, is also introduced, in which it can be thrown either directly at enemies or on the ground. If the enemy is either directly hit by or falls into the Pitfall Seed, they instantly become momentarily immobile. Mr. Resetti also appears as an assist trophy, where he starts yelling at players, much like when the player resets in an Animal Crossing game. This blocks around half the screen, obstructing the player's view of their character. Resetti will also make humorous impressions of brawling characters.
Super Smash Bros. for Nintendo 3DS and Wii U introduces a fighter to represent the Animal Crossing series, known as Villager and the default resembles the 'AAB' male character from Animal Crossing: City Folk, though other villagers are playable, too. He uses various items and tools in his moves, including the Net for grabbing opponents and the Slingshot for aerial attacks.
The stage for the Wii U version, 'Town & City' is based on Animal Crossing: City Folk, and is very similar to Smashville from Brawl, as the fighters fight on a platform in the sky overlooking the town as spectators watch the match. This time, the platform will travel between the town and the city. There are two spectator platforms, one in the town, and another in the city, and each will contain characters that would be found in their respective areas. The spectators' platforms will not move with the fighters' platform, they will stay in their respective areas as the fighters' platform lowers in front of the spectators.
The stage for the 3DS version is Tortimer Island from Animal Crossing: New Leaf. Being as everyone's island is unique and different, the stage's appearance will be different each and every time it is played on. Kapp'n's family and Tortimer will stand in the background and watch the match, while Kapp'n and his speedboat will wait at the docks at the side of the island and appears to act as a stage hazard. Sharks will also jump out of the water when a fighter gets near. Strangely, a pool of water is always featured on the Smash Bros. stage, where there is never a pool of water on the actual island.
Super Mario Maker allows several Animal Crossing characters to be unlocked as playable characters which replace Mario. These additional characters can be unlocked through amiibo figures or by completing the 100 Mario Challenge. Playable Animal Crossing characters include Villager, Tom Nook, K.K. Slider, Mr. Resetti, Blathers, Rover, Timmy and Tommy, Mabel, Kapp'n, Celeste, Kicks, Isabelle in her summer outfit, Isabelle in her winter outfit, Digby, Cyrus, Reese, and Lottie.
Taiko no Tatsujin: Atsumete Tomodachi Daisakusen!

[

edit

]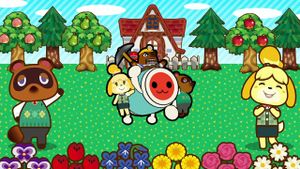 Taiko no Tatsujin: Atsumete Tomodachi Daisakusen! (太鼓の達人 あつめて★ともだち大作戦!, Taiko no Tatsujin: Atsumete Tomodachi Daisakusen!?) is a Japanese Wii U video game released in 2015. Animal Crossing amiibo may be used with the game to unlock Animal Crossing: New Leaf tracks, costumes, and more.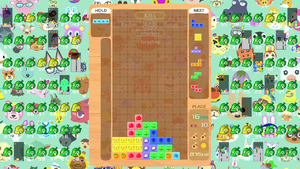 In Tetris 99, a special event was held from May 15th to May 18th, 2020, in which an Animal Crossing theme can be unlocking by collecting at least 100 event points. In the theme, the background, user interface, and tetrominos are Animal Crossing-themed, and music and sound effects from Animal Crossing: New Horizons play in the background.
During the 9-Volt level in WarioWare: Smooth Moves, one microgame, called Animal Crossing: Wild World, involves the player controlling a fishing Animal Crossing: Wild World character (either a male or female, depending upon the player's gender). The player must pull up the Wii Remote in order to catch a fish from the river. There are three difficulty stages to this game:
Easy: There is one fish in the river.
Intermediate: There is one fish in the river that takes a long time to tug on the bait.
Hard: There are two fish in the river.
All fish from Wild World are potential catches in this microgame. Failure to pull up the Fishing Rod will result in the player losing a life.
Despite being an obvious reference to Animal Crossing, there are a number of inconsistencies with the game:
Fish that cannot be found in rivers may be caught, one example being the Football Fish.
Lilies can be seen in the river; this is an Animal Crossing-only feature, and is not present in Wild World.
The male character's hat has green horns that match the pattern of the hat- no matter the pattern in Wild World, the horns will always be grey.
Every time the game is played, the fish pulls down the bobber immediately. Although this can happen in-game, it is very unusual, and certainly does not happen all the time.
The music playing in the background is from Animal Crossing.
When the fish is caught, a generic 'success' noise is played, rather than the Animal Crossing 'success' noise.
The Animal Crossing theme and K.K. Blues (known as Animal Crossing -- K.K. Blues) both appear as songs. The descriptions are for the Main Theme and K.K. Blues respectively; "The cats, dogs, and others in the world of Animal Crossing know this melody. It's one of Nintendo's cutest tunes, so play it with a song in your heart!" and "If you've got the blues, this tune by the musical pooch from Nintendo's Animal Crossing series is just what you need. Play it with soul!"
In Wii Fit Plus there is a game called Segway® Circuit. The player has to stop moles from taking beach balls with a pet. The moles appear to resemble Mr. Resetti.
References in the Animal Crossing series to other Nintendo games

[

edit

]
Being a Nintendo game, there are various references to other Nintendo games in the Animal Crossing series.
References in Animal Crossing

[

edit

]
When talking to Gulliver, he says he might have "lost his Goldfish in Toad Town or Hyrule" which are definite references to Toad Town from Paper Mario and the Mario series and Hyrule from The Legend of Zelda series.
Kapp'n rarely also sings a song about how he thinks Mario acts. Kapp'n also references The Legend of Zelda in between some sea shanty verses. He may say," Ever spend a night in a Hyrulian Prison?"
Hacking may make Tom Nook give the player a present. Tom Nook then says it came from Hyrule, a reference to the Legend of Zelda series.
References in Wild World

[

edit

]
References in City Folk

[

edit

]
Through the Tom Nook Point System, Nintendo-related items are available for purchase as a reward for spending large amounts of Bells at Tom Nook's. For a full list, please see here.
Such distributed items as a red Pikmin hat and a Dolphin model originate from the Pikmin series. A Pikmin garden is also a hacked item available.
References in New Leaf

[

edit

]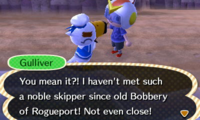 References throughout the series
[
edit
]
On March 16, 2020[1], to promote the release of Animal Crossing: New Horizons a partnership with social media Twitter for a custom emote features Tom Nook that appears for a limited time for the following hashtags:
#AnimalCrossingNewHorizons

#AnimalCrossing

#ACNH

#TomNook

#あつまれどうぶつの森

#どうぶつの森
References
[
edit
]