List of references in the Animal Crossing series
Jump to navigation
Jump to search
The following is a list of references to other media or popular culture in the Animal Crossing series.
Animal Crossing

[

edit

]
When talking to Gulliver, he can say he might have "lost his Goldfish in Toad Town or Hyrule" which are references to Toad Town from Paper Mario and the Mario series and Hyrule from The Legend of Zelda series.
Kapp'n can sing a song about how he thinks Mario acts. Kapp'n also references The Legend of Zelda in between some sea shanty verses, saying, "Ever spend a night in a Hyrulian Prison?"
The catch quote for the Loach is "I caught a loach! You don't suppose it's Hylian, do you?". This is a reference to the Hylian Loach, a fish in The Legend of Zelda: Ocarina of Time.
There is a collection of 10 Super Mario Bros.-themed furniture items, as well as the Mushroom Mural and Block Flooring, which also are themed after Super Mario Bros.
The Autumn Medal and Spring Medal items contain a medal with Mario's face on it.
The Mario Trophy and Luigi Trophy items are statues of Mario and Luigi respectively.
The Anju's Shirt and Kaffe's Shirt items are references to the outfits worn by Anju and Kafei, characters in The Legend of Zelda: Majora's Mask.
Tortimer tells a story that he defeated the "great sea snakes" at Pinnacle Rock, a reference to The Legend of Zelda: Majora's Mask.
In some villagers' houses, if the player looks inside their storage units, they may get the message "You found 10 Rupees! Talk about lucky! Too bad you can't use them in this town...", a reference to The Legend of Zelda series.
The Master Sword from The Legend of Zelda series appears as an item.
An Arwing from Star Fox series appears as an item.
The N Logo and G Logo items reference the logos of the Nintendo 64 and Nintendo GameCube respectively.
Various e-Reader designs feature references to other Nintendo franchises, including Mario, The Legend of Zelda, Metroid, Pokémon, Kirby, Pikmin, F-Zero, and Star Fox.
Animal Crossing: Wild World

[

edit

]
Animal Crossing: City Folk

[

edit

]
Animal Crossing: New Leaf

[

edit

]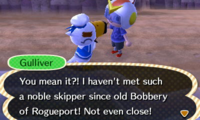 Animal Crossing: New Horizons

[

edit

]
Animal Crossing: Pocket Camp

[

edit

]