Katrina/Words of Wisdom
From Nookipedia, the Animal Crossing wiki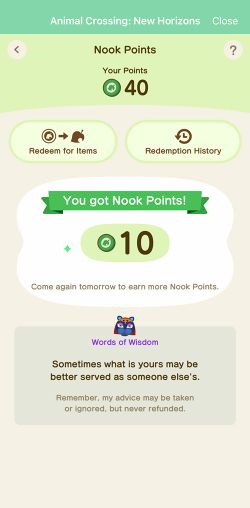 The following is a list of Words of Wisdom from Katrina in the NookLink app for Animal Crossing: New Horizons.
What is your lucky item du jour? It's the lucky item of the day.
Get out a treasured gift and admire it today. Then seal it up in plastic.
You will have a dream about turnips, but it will have no effect on stalk prices.
When the goddess of good luck smiles upon you, smile back!
One who holds money too tightly will end up with sweaty, crumpled money.
The best way to save money is to have an excellent imagination.
They who grow wealthy in the turnip game may be in for a rutabaganing.
Today is as good a day as any to make a change. As bad a day too.
Tell someone your dreams today. Even boring ones about folding laundry.
Sometimes the breath of fresh air you need is just a breath of fresh air.
It's never too late to say that you're sorry. But why push it?
If you care for someone, tell them. In real life. Not just in your head.
Send a letter to an old friend today. Or don't. I can't make you.
Listen to advice but also your instincts. This will make decisions much harder.
Try going to a store you've never been to before. Buy something unusual.
If you stick your nose in the business of others, you may not like the smell.
Are you a cat or a tiger? One meows while the other roars. But both shed.
The softest whisper can quiet the loudest crowd...if you use a megaphone.
Investigate your assumptions as if you are a detective on television.
You will be lucky in love. But unlucky in flat tires. It's a good trade-off.
You will meet a special someone the moment you stop looking at your phone.
If you ever feel as though you're about to scream, you probably are.
If you write someone a note late at night, read it before sending. It might be poetry.
Don't be surprised if your friends throw you a surprise party.
Lose your keys? Check the freezer. They won't be there, but maybe a snack will.
Be wary of influencers! Unrelated... shop at Nook's Cranny.
If the thing you want to buy sells out, you will save a great fortune.
Beware of clearance sales. Why doesn't the store want it anymore?!
Clean your room, and you may find a great fortune. Or a slice of old pizza.
If you dance like no one is watching in front of a mirror, it still technically counts.
To improve your luck, walk up a steep hill and pretend it is a graph of your luck.
It is wise to build your muscles but foolish to rely on them.
If you are tired, rest. If you are not tired, run until you are tired.
Install a bathroom in your van and admire yourself. Van vanity vanity.
Do not judge a book by its cover. Judge it by its font.
Do not grin and bear it. Bin and gear it. By that I mean go camping.
Hurry up and work on your patience.
Trying a new food is like seeing a new color. For your mouth.
Being calm at your center is overrated. Just look at tornadoes.
Be friendly to your neighbors. They know where you live.
The perfect amount of something is not quite enough.
Your creative mind can find endless ways to procrastinate on being creative.
Do not whisper that which you are not comfortable shouting.
Try tying your shoelaces differently for that "new shoe" feel.
Whether you're out wondering or wandering, try not to get TOO lost.
Be sure to treat your friends as politely as you treat your enemies.
If you think of fruit as nature's candy, you will be disappointed.
To improve your mood, try baking cookies. I mean, obviously.
The fuller your shopping cart, the emptier your wallet.
Today is a good day to wear your most unusual socks.
Self-improvement can be made in small steps, such as replacing your toothbrush.
Gaze at the sky before bed to decide whether you'll be napping or sleeping.
Don't cry over spilled milk. Chopped onions, however...
Write someone a letter. Then write more letters until you've formed a paragraph.
If your question can't be answered by your heart or brain, try your stomach.
It is OK to be frank with people. Or josh with them. But try not to rob or sue them.
Perspective is important. Swap hands while eating, and you'll see.
It takes more than a fluffy pillow to get a good night's sleep.
Find yourself in nature. Just don't forget to find your way back from it.
Happiness doesn't have a price tag. If you can get it cheap, it still counts.
All batteries need recharging. That applies to your devices and to you.
Accepting one's differences is good. Finding common ground is better.
Just because the first step is important doesn't mean the rest aren't.
Chew slowly and enjoy the taste. It'll help you digest better.
If you're going to be looking at clouds, don't forget your sunglasses.
Sometimes what is yours may be better served as someone else's.
That word you can't think of? You'll find it in the dictionary.
Life is a multiplayer experience, but you should learn to play solo as well.
In laundry, as in life, the lint trap will not clean itself.
Branch out, but only a tiny bit. Try a new side with a favorite meal.
"Going out of business" sales are technically bad for business.
Whether it's to start the day or end it, you deserve to take an early-morning walk.
Never try to prove or disprove the efficacy of a good-luck charm.
If looking at the night sky can't relax you...try something else.
A new you is only as far away as you choose for it to be.
Yoga is relaxing. Eating a pretzel is relaxing. That's not a coincidence.
Weeding a garden is the surest path to a weed-free garden, but not the only one.
If you can't have good luck, you should at least drink good tea.
Stop and smell the flowers, but don't forget to water them too.
Never hesitate to relax with a sweet snack. Just don't relax TOO much!
The day goes down much easier with a bit of midafternoon coffee or tea.
Lost something? Ask yourself, "When was the last time I cleaned?"
It's never a bad time to try something new, but 3:30 AM is pushing it.
If nothing is going your way, take a breath and start over. Screaming also helps.
Everyone loves an unexpected gift. Or an expected one!
Don't forget to invite yourself to your own party.
Some mornings need more coffee than others. But some are just a lost cause.
Warming another's heart can warm yours as well. Nobody should go cold.
Try not to be alarmed, but there is such a thing as too much sauce.
Sprinkle sugar and salt in equal measure. In life, not in baking.
A secret skill of yours could save a life. Or amuse someone at a party.
If you're going to fail, at least don't procrastinate.
If you choose rock, the scissors will crumble. However, beware of paper.
Drink a hot cup of tea. There is no reason, but hopefully there is honey.
If you are sleepy, then go to sleep. It is that simple.
Others depending on you depends on you being dependable.
Walk in another's shoes to see a whole new world. Of foot pain.
Laugh in the face of heartache. It will scare others, but you'll feel better.
To train your muscles is to train your mind. To flex them is just for fun.
The biggest challenge is to challenge yourself. It sounds true, doesn't it?
Sleep beneath the stars, and you'll awaken with the sun. And bug bites.
Don't believe everything you read. Except for this, of course.
Time will get the first and last laugh, but those in the middle are all yours.
Brush the fronts of your teeth for others. Brush the backs for yourself.
Your island has endless potential. Results are better, so get to work!
To one who is sweet like a flower and strong like a weed, life is a garden.
It is good luck to remember a name. I can't recall who told me that.
Tomorrow, make a custom design and brush your teeth. Not in that order.
Today is an amazing and incredible day for exaggerations.
When you incur anger for a foul deed... Well, what did you expect?
Are you collecting your collection, or is your collection collecting you?
Play a retro game. Fun memories and thumb pain will come rushing back.
Trash to one is treasure to another. Your toenail clippings are trash to all.
A picture paints a thousand words. Try cropping it if that's too many.
Giving thanks for a gift is its own gift. A clearly lesser gift, but still.
Garbage that is not taken out remains within.
You will marvel at your fortune in a video game. Any moment now...
If you thumb wrestle yourself, you will always end up on top.
Love is all around you, if you know where to look. Just like dust mites.
Be firm, but never too insistent. That is not a request.