User:SuperHamster/Sandbox/Yellow
From Nookipedia, the Animal Crossing wiki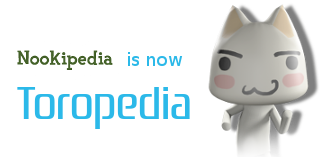 Welcome to Toropedia, your community-driven Toro Inoue wiki encyclopedia!
We currently have 9,297 articles on Toro Inoue, Sony Playstation's official mascot in Japan!




After a bit of a spat with Nintendo, the Nintendo Independent Wiki Alliance has decided to migrate its scope to cover Sony Interactive Entertainment. Nookipedia is pleased to announce that our wiki is evolving to cover one of the greatest franchises in video game history: Toro Inoue, the renowned PlayStation mascot! We figure this is an exciting change for everyone - after years of having Tom Nook on our homepage, we figured this would be a refreshing mix-up!

Join us as we transform to cover all the fantastic appearances our friend Toro makes in great games such as Mainichi Issho, Hatsune Miku: Project DIVA F, and Everybody's Golf 5.




1st April, 2017

Introducing Toro! - Nookipedia is now Toropedia, covering Toro Inoue - a much more exciting mascot than Tom Nook.

3rd March, 2017

Nintendo - The Nintendo Switch has been released worldwide!

24th January, 2017

Promotion - Congratulations to Drago (talk | contribs | logs) for his successful promotion to Bureaucrat!

2nd January, 2017

Happy New Year + Featured Art - Happy 2017, everybody! To kick off the new year, Nookipedia will start working with the community to feature fanart on our homepage and social media. We'll be showcasing fanart every 2 weeks.

12th November, 2016




Did you know?

Toro Inoue was born on May 6?
Toro's favorite foods are chūtoro, oratosquilla oratoria, and nattō rolls.
Toro really hates to be put in a cardboard box, unlike other cats.
Toro is a playable character in Everybody's Golf 5, one of the world's most renowned golfing games.