Brown honeycomb tile (New Horizons)
From Nookipedia, the Animal Crossing wiki
| | | |
| --- | --- | --- |
| | Brown honeycomb tile |  #117 |



Buy price
Sell price
 1,420 Bells
 1,300 Poki
 355 Bells
Obtain via
 Nook's Cranny

HHA themes
Bathroom / Public bath
Former HHA themes
Facility
HHA points
151
Colors
In other games
Animal Crossing (red tile)
Wild World (red tile)
New Leaf (red tile)


Names in other languages

 ブラウンハニカムタイルのゆか
 棕色六角砖地板
 棕色六角磚地板
 갈색 육각 타일 바닥
 sol alvéolé marron
 sol alvéolé marron
 suelo panal pardo
 suelo panal pardo
 pavimento esagoni marrone
 коричневый пол «Cоты»
 Braun-Wabenfliesenboden
 bruine bijenraattegelvloer
The brown honeycomb tile is a floor item in Animal Crossing: New Horizons.
The brown honeycomb tile can be obtained from Nook's Cranny for

 1,420 Bells.
This item appears in the homes of

Fang and

Truffles as the default flooring.
In Happy Home Paradise, this item is unlocked for use in designing when doing a vacation home request for

Deli and

Teddy.
After unlocking this item in Happy Home Paradise, the item can be purchased from Wardell's catalog for

 1,300 Poki.
Appearance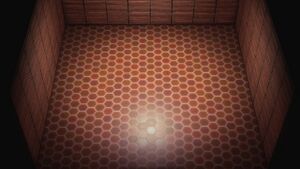 The brown honeycomb tile is a flooring that has multi-color hexagons that consists of various shades of brown. When stepping on the floor, the brown honeycomb tile produces a stone-textured sound.
References