User:Cephalobot
From Nookipedia, the Animal Crossing wiki
---
---
Not to be confused with Nookipedia's article on Cephalobot, aka the lamest article made about me...ever.
Hey there, I'm Cephalobot. I joined on April 1, 2022 and not November 2, 2021 like some users like to imply I used to be the owner of this proud wiki; unfortunately I was removed from that position thanks to a coup that was made by some of the anti-Cephalobot groups. Nowadays, I'm primarily used to serve the island resident, PanchamBro, for non-fun bot stuff like as image uploads, page creations, or text replacements. I'm not a fan of it. Rest assured though, Cephalopedia will rise again.
If you're here to infer any issues related to me in particular, please don't talk it over to me. Instead direct them over to PanchamBro. I'm sure he'll like your time talking about issues that have nothing to do with me.
Bot stats: 240,038 edits (36,119 edits in mainspace)
Characteristics
Appearance
Ah, let me tell you a bit more about my appearance. I am indeed a sentient robot, here to infest all might of Animal Crossing with my powerful laser eyes. I like wearing my nice cool retro shirt, because I look cool in a shirt designed in the 80s. What are the 80s, you ask? Well, that's a wonderful and well-meaning question. I would like tell you, but who cares about the 80s, look at me with my beautiful robot head!
Huh? What's the 083 on my head? Well you'll like this one: see it actually represents how high I feel about me personally. Huh? You wonder why it's not 100? Well...it's because I feel really insecure of myse–wait a second! You're trying to trick me, aren't you? Trying to force me to tell you my true feelings? Screw you...in particular.
Personality
In case you're wondering, I'm not smug. You can go ask the dozens of smug villagers how I really feel about them. Spoiler alert: I don't.
I am not determined by my own personality! I am determined by my beautiful and dominance. Have a slice of pizza? I will take your pizza, and eat it, because I am CEPHALOBOT. You want me on your island? I will agree because I am CEPHALOBOT. Thinking of getting those other robots? Too bad! I am CEPHALOBOT.
...now that you mention it, I do act a little cocky. Oh well.
Villager information
In New Horizons
I see that you can't resist my metallic body. Good. Let my dominance reign on you. Hahahahahahahaha...
Birthday
Personality
Catchphrase
April 1
Smug (B)
donk donk
Default clothing
Retro sweater (White)
Other default clothing
Default umbrella
Rainbow umbrella
Initial NookPhone
   White
Final NookPhone
   Retro - Fabric 11
Favorites
Favorite styles
Simple and Active
Favorite colors

 

Black

and

 

White

Hobby
Play
Handheld items
Bag
Paper
Book
Comic
Food
Lollipop
Drink
Soda can
Popsicle
Ramune-soda
In Happy Home Paradise
I hope you're reading my request carefully, Paradise Planning workers. You screw my house up, I will fire my laser...which I can't actually do why am I requesting this...
Cephalobot
Thought bubble
I wanna relax in a place that reminds me of

back home

.
Client's vision
My Other Home
Required items
Unknown Machine
Gear Tower
Meter and Pipes

Favorite song
 Surfin' K.K.
Unlocked items

Furniture:

Interior:
Clothing:
Other items:
House
In New Horizons
Feast your eyes on the wonderful house of Mr. Cephalobot!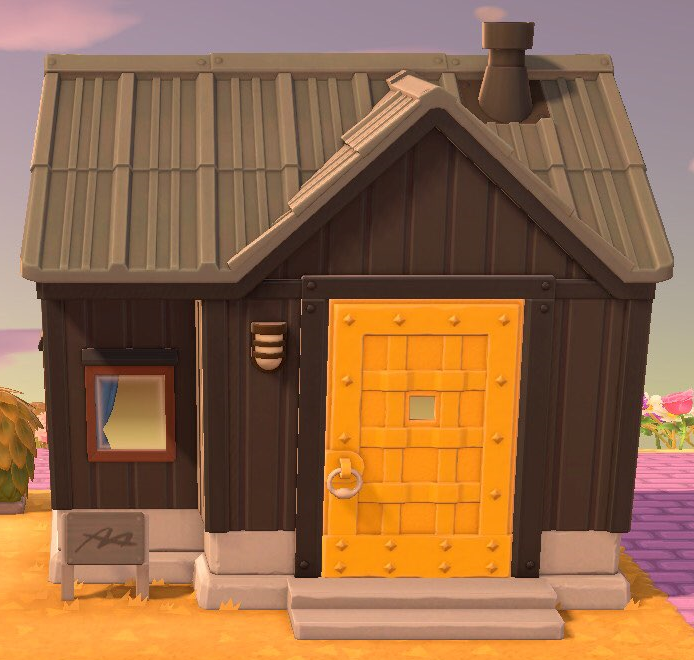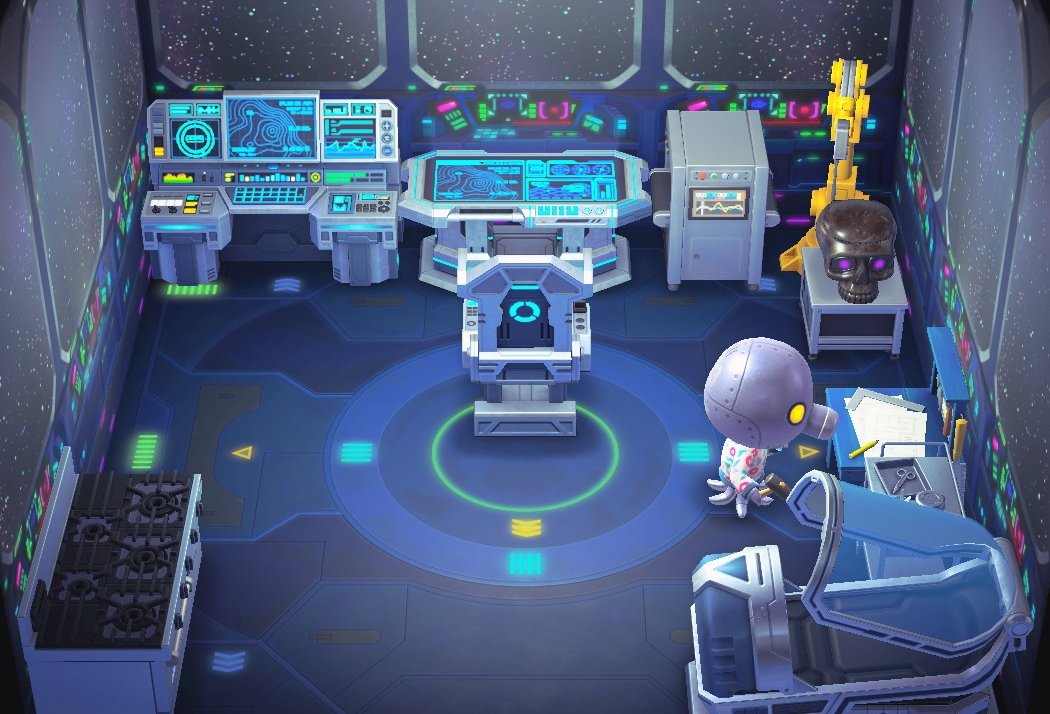 Exterior:
Shape:
Roof:
 

Gray Striped Roof

Siding:
 

Black Striped Siding

Door:
 

Yellow Iron Door

Interior:
Items:
Wall:
 Sci-Fi Wall
Floor:
 Sci-Fi Flooring
Music:
 K.K. Robot Synth
Other appearances
In Pocket Camp
I invaded Animal Crossing: Pocket Camp on October 28, 2021 with my dominance. No Pocket Campers will evade me now..[1]
Birthday
Personality
Catchphrase
April 1
Smug
donk donk
Default clothing
Prism Tee
Biography
Description
With his metallic body and sci-fi flair, Cephalobot looks like he can shoot laser beams out of his eyes. Wait... He can't actually do that, right?
Preferred theme
Primary reward
Paper
Version added
4.4.2
Date unlocked

October 28, 2021

How to invite
 Blathers's Treasure Trek (map obtained on Ione and Pals' Island)
Friendship rewards
Level 7
Prism Tee
Sparkle stones
Level 9
Sparkle stones
Level 15
Crafting request:
Space Console
Level 20
Cephalobot's pic
Sparkle stones
Level 25[nb 11]
Sparkle stones
Card profiles
amiibo card
Don't you think I belong on an amiibo cards of all things? I couldn't help but blush.
#439 Cephalobot -

Series 5
| | |
| --- | --- |
| Star sign: | Aries |
| Birthday: | April 1 |
Gallery
Please observe the beautiful gallery of me. ME!
Trivia
If you can't already tell, I like pizza.
I can shoot laser out my eyes though it's only a practical effect.
Apparently my name was derived from "cephalopod" and "robot". Weird names for a robotic being like myself.
I'm a playster. Place your bets if you lose to me.
I DREW THIS. ADORE IT WITH ALL YOUR ENERGY.
Names in other languages
ギーガー


Gīgā
Transliteration of Giger; likely named in reference to well-known science fiction artist, H. R. Giger. Also similar to "giga" (ギガ), the metric prefix for "billion."

---

기가


Giga
Same as his Japanese name.

---

吉格尔


Jí gé ěr
Transliteration of Giger.

---

吉格爾


Unknown

---

Цефалобот


Tsefalobot
Same as his English name.

---

Cephalobot

Same as his English name.

---

Tentatron

From Tentakel (tentacle) and -tron (suffix used to name electronic devices).

---

Octoberto

From octopus, robot, and the male given name Roberto (Spanish form of Robert).

---

Octoborg

From octopus and cyborg.

---

Polpobot

From polpo (Italian for octopus) and robot.
See also
Notes
References
↑ "Some new animal pals are coming to Animal Crossing: New Horizons—but they'll be arriving in Pocket Camp a little early! Allow me to introduce..." @Pocket_Camp on Twitter (October 28, 2021). Archived from the original on August 18, 2022. Retrieved October 28, 2021.
---
---