Cherry wall (New Horizons)
From Nookipedia, the Animal Crossing wiki
The cherry wall is a wallpaper item in Animal Crossing: New Horizons.
The cherry wall can be obtained from crafting, which requires

20× cherry. The recipe for this item can be obtained from peppy villagers, either when they are crafting in their house, or when the player receives their message bottle from the beach.
No villagers have this item in their home.
In Happy Home Paradise, this item is unlocked for use in designing when doing a vacation home request for

Blaire and

Cheri.
Appearance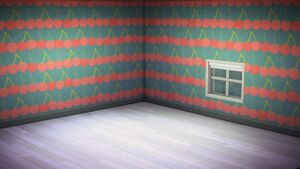 The cherry wall features a pattern of cherries against a blue wallpaper, with each cherry featuring a different shade of red and green. The window is rectangular with a white frame, a vertical and horizontal rail that meet in the center forming a "plus" shape, and a shade rolled up at the top.
Gallery
See also
References