Classic Painting
From Nookipedia, the Animal Crossing wiki
The Classic Painting is a painting in the Animal Crossing series introduced in the North American version of Animal Crossing. It is based on Emanuel Leutze's Washington Crossing the Delaware.
Art details[edit]
In Animal Crossing[edit]
The Classic Painting replaces the Pleasant Feeling Painting from Doubutsu no Mori+, which shares the same internal hexadecimal ID.
Gallery[edit]
Real-world information[edit]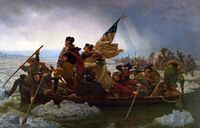 Washington Crossing the Delaware is an 1851 oil-on-canvas painting by the German-American artist Emanuel Leutze. It depicts Washington's crossing of the Delaware River, part of a surprise attack against Hessian forces during the American Revolutionary War. The painting is currently on display in the Metropolitan Museum of Art.