Red two-toned tile wall (New Horizons)
From Nookipedia, the Animal Crossing wiki
| | | |
| --- | --- | --- |
| | Red two-toned tile wall |  #517 |



Buy price
Sell price
 1,850 Bells
 1,700 Poki
 462 Bells
Obtain via
 Nook's Cranny

HHA themes
Bathroom / Public bath
Former HHA themes
Facility
HHA points
151
Colors

Names in other languages

 あかいツートンタイルのかべ
 红色撞色砖墙
 紅色撞色磚牆
 빨간 투톤 타일 벽
 mur carrelé bicolore rouge
 mur carrelé bicolore rouge
 pared damero rojo
 pared damero rojo
 muro piastrelle biancorosso
 стена с красной плиткой
 Rot-Weiß-Fliesenwand
 rode tegelpatroonwand
The red two-toned tile wall is a wallpaper item in Animal Crossing: New Horizons.
The red two-toned tile wall can be obtained from Nook's Cranny for

 1,850 Bells.
No villagers have this item in their home.
In Happy Home Paradise, this item is unlocked for use in designing when doing a vacation home request for

Anchovy,

Frita,

Ketchup, and

Paula. The item can also be unlocked when tasked by Lottie to design the café.
After unlocking this item in Happy Home Paradise, the item can be purchased from Wardell's catalog for

 1,700 Poki.
Appearance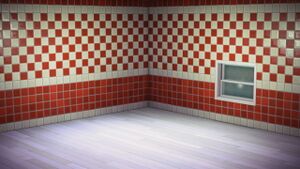 The red two-toned tile wall has a classic diner-style tile pattern, with a red and white checkered pattern on the top and a red band bordered by a row of white tiles on the bottom. The windows are square with a white metal frame, and two horizontal panels of glass.
References