Bamboo Shoot (New Horizons)
From Nookipedia, the Animal Crossing wiki
| | | |
| --- | --- | --- |
| | Bamboo Shoot | |



Buy price
Sell price
Not for sale
 250 Bells
Obtain via
 Underground (near a full-grown bamboo tree)
 Daisy Mae (After purchasing 100 Turnips)

Stack
10
Edible
Yes

Name in other languages

 

たけのこ

 

竹笋

 

pousse de bambou

 

brote de bambú

 

germoglio di bambù

 

побеги бамбука

 

죽순

 

竹筍

 

pousse de bambou

 

brote de bambú

 

Bambussprosse

 

bamboescheut
Bamboo Shoots are a crafting material in Animal Crossing: New Horizons. They can be planted in the ground to produce more bamboo trees. This item is edible and by eating it, the player will gather energy to be able to dig up trees or break rocks.
Bamboo Shoots can be obtained by digging marked holes near a Bamboo tree. They can also be obtained in the mail from Daisy Mae after purchasing from her at least 3 different times a total of 100 Turnips; afterward, any purchase will result in her mailing 3 Bamboo Shoots the next day. Up to 10 of the item can be stacked together. Each Bamboo Piece sells for

 250 Bells.
Use in crafting
Bamboo Shoots are used as a crafting material in the DIY recipes for the following items:
Recipes in Animal Crossing: New Horizons
Item

Image

Type

Available from

Materials

Bamboo-Shoot Lamp
Furniture
 Balloons

4× Young Spring Bamboo
5× Bamboo Shoot
4× Clay

Bamboo-Grove Wall
Interior
 Balloons

7× Young Spring Bamboo
3× Bamboo Shoot

Includes data sourced from this Item Spreadsheet, compiled by 6480, noizhub, Ricky, chaiinchomp, saberslime, robotic_scarab, mollumisc, sunmarsh, kyrokey, obstinateRixatrix, jackiwi, Zalex, SuperHamster, kait, hyuum, Azarro, Czarcasm, cinnamon_swirlix, astronomyfortwo, Welcius, glowtopia, BriKun, Alyrei, dodocodes.com, StevieCoops, sneeze, Shiny190, TwistedPeach, LavaToaster, capstone, vmario, rocklamp, Alexis, Aeon, and PanchamBro.
Trivia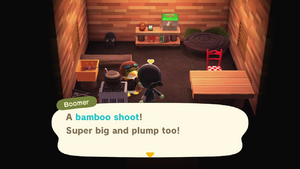 In version 1.5.0, Villagers would incorrectly give dialogue pertaining to a Pumpkin item when given a Bamboo Shoot. This was fixed in version 1.5.1.
See also
References