Bamboo wall (New Horizons)
From Nookipedia, the Animal Crossing wiki
The bamboo wall is a wallpaper item in Animal Crossing: New Horizons.
The bamboo wall can be obtained from crafting, which requires

15× bamboo piece. The recipe for this item can be obtained from cranky villagers, either when they are crafting in their house, or when the player receives their message bottle from the beach.
This item appears in the homes of

Pinky,

Rowan, and

Tammi as the default wallpaper.
In Happy Home Paradise, this item is unlocked for use in designing when doing a vacation home request for

Chester,

Cranston,

Kabuki,

Pekoe, and

Wart Jr..
Appearance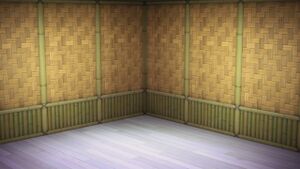 The bamboo wall is a tan woven bamboo wall divided by vertical green bamboo poles. There is green bamboo wainscoting around the bottom of the room.
Gallery
References