Purple Moroccan flooring (New Horizons)
From Nookipedia, the Animal Crossing wiki
| | | |
| --- | --- | --- |
| | Purple Moroccan flooring |  #475 |

Moroccan Series


Buy price
Sell price
 2,100 Bells
 1,900 Poki
 525 Bells
Obtain via
 Nook's Cranny

HHA themes
Bathroom / Facility
HHA points
151
Colors

Names in other languages

 

むらさきのモロッカンタイルゆか

 

紫色摩洛哥砖地板

 

紫色摩洛哥磚地板

 

퍼플 모로칸 타일 바닥

 

sol treillis marocain violet

 

sol treillis désert mauve

 

losa marroquí lila

 

suelo losa marroquí morado

 

pavimento marocchino viola

 

фиолетов. марокк. пол

 

Lila-Marokko-Boden

 

paarse Marokkaanse vloer
The purple Moroccan flooring (known as the purple desert-tile flooring prior to version 2.0) is a floor item in Animal Crossing: New Horizons. It is part of the Moroccan Series as of version 2.0.
The purple Moroccan flooring can be obtained from Nook's Cranny for

 2,100 Bells.
This item appears in the homes of

Gigi,

Kidd, and

Muffy as the default flooring.
In Happy Home Paradise, this item is unlocked for use in designing when doing a vacation home request for

Cleo and

Sylvana. The item can also be unlocked when tasked by Lottie to design the café.
After unlocking this item in Happy Home Paradise, the item can be purchased from Wardell's catalog for

 1,900 Poki.
Appearance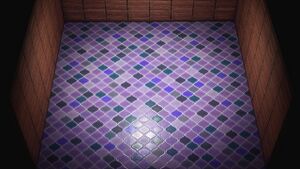 The purple Moroccan flooring has ornament-shaped tiles and white grout. The repeating pattern is mostly light to medium shades of purple, with splashes of dark blue, amethyst, dark teal, and blue-violet. The tiles will shine when placed against a light source.
When stepping on the floor, the purple Moroccan flooring produces a stone-textured sound.
See also
References