Sakura-wood wall (New Horizons)
From Nookipedia, the Animal Crossing wiki
The sakura-wood wall is a wallpaper item in Animal Crossing: New Horizons.
The sakura-wood wall can be obtained from crafting, which requires
5× cherry-blossom petal and

10× wood. The recipe for this item can be obtained from balloons during Cherry Blossom season from April 1 to April 10 (Northern Hemisphere) and October 1 to October 10 (Southern Hemisphere) or from message bottles found on the Cherry Blossom island via Kapp'n's boat tours.
No villagers have this item in their home.
In Happy Home Paradise, this item is unlocked for use in designing when doing a vacation home request for

Flora,

Pashmina, and

Rocket. The item can also be unlocked when tasked by Lottie to design the school.
Appearance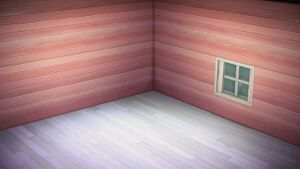 The sakura-wood wall has many pink stained boards of wood horizontally placed along the wall. These pink boards vary in shades of pink from light to dark mauve pink. The windows are square with a mint blue frame, a vertical rail down the center of the window, and white curtains.
Gallery
References