White-rose wall (New Horizons)
From Nookipedia, the Animal Crossing wiki
| | | |
| --- | --- | --- |
| | White-rose wall |  #676 |



Buy price
Sell price
 1,720 Bells
 1,500 Poki
 430 Bells
Obtain via
 Nook's Cranny

HHA themes
Fancy / Child's room
HHA points
151
Colors

Names in other languages

 

しろいバラのかべがみ

 

白色玫瑰壁纸

 

白色玫瑰壁紙

 

하얀 장미 벽지

 

mur de roses blanches

 

mur de roses blanches

 

pared rosas rosada

 

pared rosas blancas

 

muro con rose bianche

 

стена с белыми розами

 

Unschuldsrosentapete

 

witterozenwand
The white-rose wall is a wallpaper item in Animal Crossing: New Horizons.
The white-rose wall can be obtained from Nook's Cranny for

 1,720 Bells.
This item appears in the homes of

Ava and

Bertha as the default wallpaper.
In Happy Home Paradise, this item is unlocked for use in designing when doing a vacation home request for

Apple,

Bob,

Celia, and

Chrissy. The item can also be unlocked when tasked by Lottie to design the hospital.
After unlocking this item in Happy Home Paradise, the item can be purchased from Wardell's catalog for

 1,500 Poki.
Appearance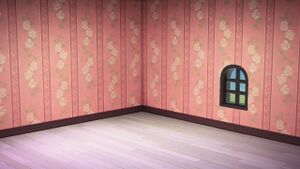 The white-rose wall is a pink wallpaper that displays many imprinted white roses, which cluster in groups of three, vertically across the wall. Green leaves and stems surround each rose cluster. Dark Pink separations with small white borders and intricate mauve leaves divide each row of roses parallelly. The windows are arched with a black frame, have a vertical rail down the center of the window along with two other horizontal rails which divide the window into six.
References