Autumn wall (New Horizons)
From Nookipedia, the Animal Crossing wiki
The autumn wall is a wallpaper item in Animal Crossing: New Horizons.
The autumn wall can be obtained from crafting, which requires

10× maple leaf,

5× wood, and

5× clump of weeds. The recipe for this item can be obtained from balloons during Maple Leaf season from November 16 to November 25 (Northern Hemisphere) and May 16 to May 25 (Southern Hemisphere) or from message bottles found on the Maple Leaf island via Kapp'n's boat tours.
This item appears in the homes of

Croque,

Deirdre,

Limberg,

Monty, and

Poppy as the default wallpaper.
In Happy Home Paradise, this item is unlocked for use in designing when doing a vacation home request for

Alli,

Beau,

Deirdre,

Mallary,

Mitzi, and

Spork.
Appearance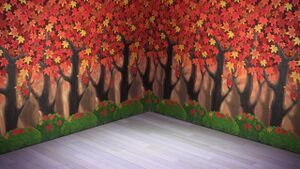 The autumn wall Wall consists of numerous brightly colored orange and red maple trees with twisted trunks. In the foreground are small green bushes littered with yellow, orange, and red leaves. The wall is animated, with orange leaves periodically drifting down in the foreground.
Gallery
References