Security-monitors wall (New Horizons)
From Nookipedia, the Animal Crossing wiki
| | | |
| --- | --- | --- |
| | Security-monitors wall |  #558 |



Buy price
Sell price
 3,000 Bells
 750 Bells
Obtain via
 Saharah

HHA themes
Facility / Sci-fi
HHA points
451
Colors

Names in other languages

 

モニタールームのかべ

 

监控室墙

 

監控室牆

 

모니터 룸 벽

 

mur vidéosurveillance

 

mur vidéosurveillance

 

pared sala de seguridad

 

pared sala de seguridad

 

muro monitor di sicurezza

 

стена с мониторами

 

Überwachungswand

 

observatiewand
The security-monitors wall is a wallpaper item in Animal Crossing: New Horizons.
The security-monitors wall can be obtained from Saharah for

 3,000 Bells or

 5 Saharah Tickets. Saharah can also sell this item at her Co-Op on Harv's Island for

 3,600 Bells. This item cannot be ordered from Nook Shopping.
This item appears in the homes of

Barold as the default wallpaper.
In Happy Home Paradise, this item is unlocked for use in designing when doing a vacation home request for

Chevre,

Kevin,

Kid Cat, and

Prince.
Appearance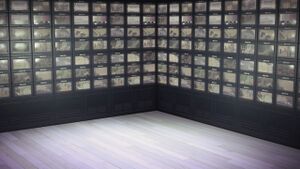 The security-monitors wall is a monochromatic wall with various screen monitors depicting several scenes.
Among these scenes from top to bottom, left to right, include:
A field growing orange pumpkins
Television static
A test card
A staircase in the museum
A rocky steepe
Portions of a suspension bridge
A river featuring portions of a stone bridge
The Airport lobby
The Airport's entrance
Portions of a cedar tree forest
Another set of staircases in the museum
The sky featuring a balloon
The beach, with footprints left behind
The second floor of the museum
A house with arched brick paths
An apple tree
A closeup of a plant featuring a ladybug
A river underneath a stone bridge
Another viewpoint of the Airport's entrance
When placed in a dark setting, the monitors on the wallpaper will glow.
Gallery
References