Stone wall (New Horizons)
From Nookipedia, the Animal Crossing wiki
The stone wall is a wallpaper item in Animal Crossing: New Horizons.
The stone wall can be obtained from crafting, which requires

10× stone. The recipe for this item can be obtained from smug villagers, either when they are crafting in their house, or when the player receives their message bottle from the beach.
No villagers have this item in their home.
In Happy Home Paradise, this item is unlocked for use in designing when doing a vacation home request for

Agent S,

Avery,

Cobb,

Eunice,

Knox,

Lucky,

T-Bone,

Tucker,

Vic, and

Vladimir.
Appearance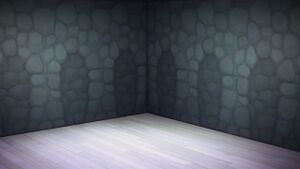 The stone wall is made up of large gray stones forming arches with darker cobblestones under them to create the illusion of depth.
Gallery
References