Arched-brick flooring (New Horizons)
From Nookipedia, the Animal Crossing wiki
The arched-brick flooring is a floor item in Animal Crossing: New Horizons.
The arched-brick flooring can be obtained from Nook's Cranny for

 1,100 Bells.
No villagers have this item in their home.
In Happy Home Paradise, this item is unlocked for use in designing when doing a vacation home request for

Annalise,

Bea,

Beardo,

Julia,

Phoebe,

Pietro,

Shari, and

Shep. The item can also be unlocked when tasked by Lottie to design the apparel shop.
After unlocking this item in Happy Home Paradise, the item can be purchased from Wardell's catalog for

 990 Poki.
Appearance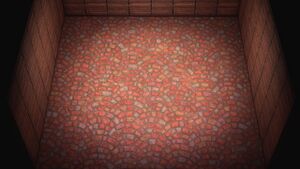 The arched-brick flooring resembles bricks in various shades of red in a curved pattern. When stepping on the floor, the arched-brick flooring produces a stone-texture sound.
References