Ruins wall (New Horizons)
From Nookipedia, the Animal Crossing wiki
| | | |
| --- | --- | --- |
| | Ruins wall |  #544 |



Buy price
Sell price
 3,000 Bells
 750 Bells
Obtain via
 Saharah

HHA themes
Horror / Ancient
Former HHA themes
Heritage
HHA points
451
Colors

Names in other languages

 

いせきのかべ

 

遗迹墙

 

遺跡牆

 

유적 벽

 

mur de ruine

 

mur de ruine

 

pared ruinas misteriosas

 

pared ruinas misteriosas

 

muro rovine

 

стена «Руины»

 

Ruinenwand

 

mysterieuze ruïnewand
The ruins wall is a wallpaper item in Animal Crossing: New Horizons.
The ruins wall can be obtained from Saharah for

 3,000 Bells or

 5 Saharah Tickets. Saharah can also sell this item at her Co-Op on Harv's Island for

 3,600 Bells. This item cannot be ordered from Nook Shopping.
No villagers have this item in their home.
In Happy Home Paradise, this item is unlocked for use in designing when doing a vacation home request for

Huck,

Lucky,

Roswell,

Static,

Tucker, and

Vladimir.
Appearance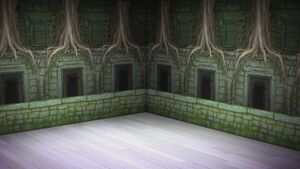 The ruins wall depicts old mossy ruin entrances with tree roots growing on top of each doorway. The entrances sit on top of a mossy brick foundation that takes up the bottom third of the wall and is depicted to be in the foreground. The ruin entryway on top of the foundation takes up the middle third of the wall with the trees shown to grow past the top of the wall and is in the middle ground of the image. Lastly, there is a mossy brick wall in the background behind the trees.
Use in crafting
The ruins wall is used as a crafting material in the DIY recipes for the following items:
Recipes in Animal Crossing: New Horizons
Includes data sourced from the Data Spreadsheet for Animal Crossing New Horizons, compiled and edited by 6480, noizhub, Ricky, chaiinchomp, saberslime, robotic_scarab, mollumisc, sunmarsh, kyrokey, obstinateRixatrix, jackiwi, Zalex, SuperHamster, kait, hyuum, Azarro, Czarcasm, cinnamon_swirlix, astronomyfortwo, Welcius, glowtopia, BriKun, Alyrei, dodocodes.com, StevieCoops, sneeze, Shiny190, TwistedPeach, LavaToaster, capstone, vmario, rocklamp, Alexis, Aeon, and PanchamBro.
Total ruins walls needed to craft all available items: 1.
References