Galaxy flooring (New Horizons)
From Nookipedia, the Animal Crossing wiki
The galaxy flooring is a floor item in Animal Crossing: New Horizons.
The galaxy flooring can be obtained from crafting, which requires

5× star fragment and

1× large star fragment. The recipe for this item can be obtained from Celeste or from message bottles found on the Star Fragment island via Kapp'n's boat tours.
No villagers have this item in their home.
In Happy Home Paradise, this item is unlocked for use in designing when doing a vacation home request for

Alfonso,

Benedict,

Julian,

Kevin,

Olivia,

Pancetti,

Phil,

Sasha,

Sterling, and

Timbra.
Appearance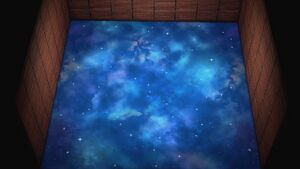 The galaxy flooring reflects that of a bright galaxy. The flooring is blue with small white stars dotted randomly across the flooring. the flooring also has a hazy texture in amongst the stars and blue. Changing the angle using the left analog stick showcases the floor's three-dimensional point of view.
When placed in a dark setting, the stars will glow in the dark. When stepping on the floor, the galaxy flooring produces a mat-textured sound.
Gallery
References