Sci-fi wall (New Horizons)
From Nookipedia, the Animal Crossing wiki
The sci-fi wall is a wallpaper item in Animal Crossing: New Horizons.
The sci-fi wall can be obtained from crafting, which requires

5× star fragment and

1× large star fragment. The recipe for this item can be obtained from Celeste or from message bottles found on the Star Fragment island via Kapp'n's boat tours.
This item appears in the homes of

Cephalobot as the default wallpaper.
In Happy Home Paradise, this item is unlocked for use in designing when doing a vacation home request for

Benedict,

Biff,

Cephalobot,

Kevin,

Kid Cat,

Kyle,

Mira,

Phil,

Rodney,

Sasha, and

Sterling.
Appearance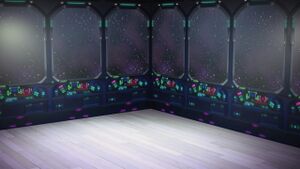 The sci-fi wall depicts a space ship's control center with giant arched glass windows showing space outside. Each window has a green light at its top with two small white light at each end. At each end of the arch where the windows touch there are four small clustered diagonal green lights as well as a tiny white light further down the border. At the bottom of each window resides a dark gray control station where many of the presumed space ship's buttons lie. There are four main small monitors at this table with some vague data displayed on them in colors of green, blue, fuchsia, and red. At the monitor's sides reside two gray boxes with the one on the left having one blue light and the one on the right with two blue lights. Under the table a small diamond shaped light can be seen on the bottom left side with a small vertical green light at each side. At the bottom of the desk base, two small horizontal fuchsia lights can be seen as well as one in the middle of them that is closer to the top and is made up of four smaller horizontal lights making up a type of suggested rhombus shape.
Gallery
References