List of prerelease and unused content in Wild World
From Nookipedia, the Animal Crossing wiki
The following is a list of prerelease and unused content in Animal Crossing: Wild World.
Early builds
E3 2004
Animal Crossing: Wild World was first showcased to the press at E3 2004 with a 30-second gameplay video. The video shows a visual style that is nearly identical to that of Animal Crossing. Additionally, gameplay takes place on the top screen rather than the bottom screen like in the final game.
New features shown in the video include Touch Screen being used for the pockets and design creation, as well as simultaneous multiplayer with a chat keyboard on the Touch Screen. These interfaces are all vastly different in design from the final game.
Shown in the player's pockets are early icons for an Apple, an Axe, a clothing item, a K.K. Slider song aircheck, Turnips, and letters. Most of the icons are identical to their counterparts in Animal Crossing; however, the clothing and aircheck icons instead match early icons that were found in the leaked source code of Doubutsu no Mori. Additionally, the Picture Book, a villager favor item from Animal Crossing that does not appear in the final game, appears in the player's pockets.
E3 2005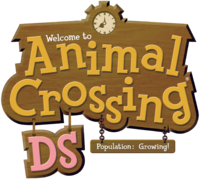 Animal Crossing: Wild World was shown again at E3 2005, now much closer to its final visual design.
TBA
Unused content
Items
Wild World features several unobtainable items, all of which are named "not used" unless otherwise stated.
Villager moving boxes
The boxes seen in villager houses when a villager is moving in or out appear as unobtainable furniture items. There are three sizes: 1×1, 2×1, and 2×2. There is another item that is identical to the 1×1 villager moving boxes when placed inside but appears as an accessory in the player's pockets and can be planted outside, where it becomes a clover.
Museum fossil stands
Two of the bases for standalone fossils seen in the museum appear as unobtainable furniture items.
Invisible chairs
There are two furniture items that do not have models and thus are invisible when placed down. However, they are fully functional chairs.
Tom Nook's store wallpapers
The wallpapers used in each incarnation of Tom Nook's store appear as unobtainable items.
Hybrid flower bags
Flower bags for all hybrid flowers—which can normally only be obtained through flower breeding—are unused in the game's data.
Corrupted Four-Leaf Clover
An accessory that appears as a Four-Leaf Clover when placed inside is an unobtainable item. It can be worn like the Four-Leaf Clover; however, it is invisible when worn. It cannot be dropped outside.
Beehive
An item with the sprite of a beehive when placed outside appears in the game's data. It appears as a furniture leaf in the player's pockets and when placed inside.
Sold-Out Sign
The Sold-Out Sign[nb 1] is an item that appears as furniture in the player's pockets and on the ground outside, but appears as the sign used for sold-out items in Tom Nook's store when placed in a house.
Bottle Paper
The Bottle Paper[nb 2] is a stationery item that uses the same texture as the Note in a Bottle stationery. It can be sold for 40 Bells.
Notes
References