Prerelease and unused content in Doubutsu no Mori
From Nookipedia, the Animal Crossing wiki
For prerelease and unused content in Animal Crossing, see Prerelease and unused content in Animal Crossing.
The following is a list of prerelease and unused content in Doubutsu no Mori.
Early builds
[
edit
]
Nintendo Space World 2000
[
edit
]
Doubutsu no Mori was first showcased in a one-minute trailer at Space World 2000,[1] a Japanese video game trade show hosted by Nintendo. Screenshots were also published in an article on Nintendo's Japanese website.[2] The trailer and screenshots show some differences from the final release.

The game has a tentative logo, featuring a different font, color, and layout from the final one.
The bulletin board is located to the left of the shrine, rather than in the middle of the player house acre.
The sprites for furniture, wallpaper, and carpets are all a beige version of the map sprite from the final game rather than a unique sprite for each.
A blue villager house palette that is not in the final game is shown.
Signposts have an image of a blue house on them rather than a piece of paper with text.
The shrine has a green roof and a more red wood color.
A villager's door has a wreath on it.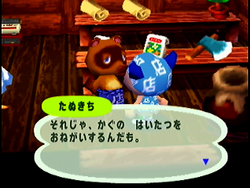 Partial source code leak
[
edit
]
On July 25, 2020, partial source code for Doubutsu no Mori was leaked onto the Internet along with source code several other Nintendo games. The source code contains many assets and pieces of development information that are not in the final game.
Discoveries
[
edit
]
The folder containing assets for BEA3 is missing from data, which may possibly indicate a cut bear villager.[4] This ID is missing in later versions of the game as well.
Textures and a model for Blathers,[3] who does not appear in the final game. The textures resemble Celeste, most notably with the beady eyes, indicating it may have been the inspiration or cause for her creation and design.
A screenshot of a customized title screen which appears to be for use during Space World 2000, a Nintendo-hosted video game trade show.[3]
Shaki, who appears in the final game as an unused character, was used as a placeholder character during development.[7]
Famicom games were originally meant to be loaded from the 64DD add-on rather than being present in the game itself.[7]
Icons for 9 unused items: cd, guitar, kusuri (medicine), nuts, pet, seed, nae (seedling), sickle, and ueki (potted plant).[7]
Early icons for several items that appear in the final game. Some items have multiple early icons from different stages of development.[7]
Textures for 52 unused clothing items.[7]
Early textures for 23 clothing items.[7]
12 early player house textures with different brick and wood designs.[7]
25 early villager house textures, including one shown in the Space World 2000 build, featuring different layouts and color palettes than the final game.[7]
Text that is not in the final game.[7]
Unused text
Unused text (translated)
ありがとう。


では <Player>ちゃん、
みじかいじかんだけど
たのしんでくださいな、
<Catchphrase>。

Thanks.


Well <Player>,
I hope you have fun
in the short time you have,
<catchphrase>.
Unused content
[
edit
]
The following unused content does not appear in later releases of the game.
Unused furniture items
[
edit
]
The Chest, Modern Den Chair, Nice Speaker, Rack, Unused Dresser, Unused Monkey, and Zabuton are furniture items that can only be obtained through the use of memory editing. The items appear in Animal Crossing with English names, but their models are only in Doubutsu no Mori.
The Unused Monkey is animated and the Modern Den Chair can be sat on. The rest of the items have no functionality.
Party Dress and Tuxedo
[
edit
]
パーティードレス (Party Dress) and タキシード (Tuxedo) are two fully functional clothing items that can only be obtained through the use of memory editing.
References
[
edit
]