Prerelease and unused content in New Horizons
From Nookipedia, the Animal Crossing wiki
The following is a list of prerelease and unused content in Animal Crossing: New Horizons.
Early builds
[
edit
]
CEDEC 2020
[
edit
]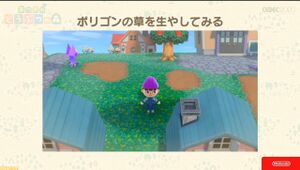 At the Computer Entertainment Developers Conference of 2020, art director Koji Takahashi, player and villager designer Asako Shibata, and item designer Hiromi Sugimoto spoke about the art direction regarding Animal Crossing: New Horizons. During their presentation, screenshots were shared of an early build of New Horizons. In those screenshots, the grass is shown to have a vibrant grass pattern underneath a grassy texture. The trunk of each hardwood tree featured no texture unlike the final build. Small pockets of dirt were featured, as well as dirt and stone paths. Villager houses had a small window on the top of the screen and feature a different roof and chimney, while the player's house appears to have been finalized in this build of the game. One screenshot showcases a building to the right of the player surrounded by stone paths, possibly indicating that the building was originally an older version of Resident Services. Another screenshot highlighted a different cliff texture, an white wooden fence, an early weed design, and an early stone bridge design. The screenshot also showcased a different water shader that is more opaque than the final build, as well as a different clock interface that nearly resembles that of New Leaf and an early build of the map UI.[1]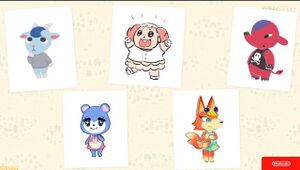 Later, the team addressed villager designs, in which various members began experimenting with various designs to see what would work out when developing New Horizons. The team also shared art concepts of the new villagers from New Horizons. In this art concept, Sherb wears an entirely gray sweater; Judy wears a different dress that nearly resembles a Maid Dress, lacks her blue-pink gradient, and has heart-shaped ears; Dom wears a dress shirt and does not have stripes on his horns; Audie's sunglasses are slightly smaller; and Cyd had a different hairstyle, wearing a skull tank and having a red tail.[1]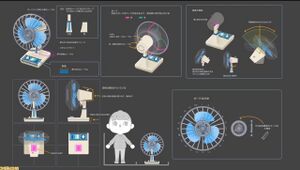 Lastly, the team addressed furniture design, desiring to match the player's expectations whenever they decorate with any sets of furniture. They demonstrated with a Retro Fan, showcasing the fan's guard frame and buttons to make it stand it to players. In an early build, the guard frame of a Retro Fan had an equal proportion, while the final build had the front guard frame having more proportion than the back guard frame. The Retro Fan in the final build was also resized, heightened, and given extra details compared to its early build.[1]
Another design concept addressed by the team was to allow each furniture item to fit accordingly to the player's house. They choose a limit of 4 units, or 40 meters, and accommodated each furniture item to this new furniture system using a Wooden Simple Bed as an example. Finally, interactions were done to certain furniture items, with one concept art regarding the usage of a Bamboo Doll.[1]
A comparison of a Retro Fan and Fan prior to the new proportion changes.
E3 2019
[
edit
]
Animal Crossing: New Horizons was formally revealed in E3 2019, although many elements of the game had changed from its reveal on June 11, 2019 to its release on March 20, 2020.
Notably, grass patterns are confined to a small circle and spread around the island, unlike the final game featuring a more uniform grass pattern scattered across the island. The snow also lacked a grass pattern in the reveal, with the final game featuring a circle pattern. The Call Resident app in this demo is called "Call Islander" and uses a different interface from the final game. The player also uses the Island Designer Construction Permit without a helmet in this demo. Snow in this build falls more heavy and notable than in the final game.
Fuchsia's house is different in this build of the game than the final version. While her wallpaper and flooring remained the same, Fuchsia originally featured a Wooden Simple Bed instead of the Loft Bed with Desk in the final game. Her house layout also changed, with the Cute DIY Table, Ironwood Cart, Double Sofa, Cute Wardrobe, Monstera, Wall-Mounted TV (50 in.), Cute Floor Lamp, and Cute Music Player in a different placement in the initial build. Fuchsia's Rock Guitar was also in the Coral Pink variant than the Fire Red variant. Additionally, the Red Cute Floor Lamp's shade was colored white in this build instead of red in the final build.
At the end of the E3 2019 trailer, Tom Nook appears to the player to deliver them their itemized bill. During his conversation in this demo of the game, Tom Nook's voice is high pitched, matching similarly to the default voice for lazy villagers. The final game pitches his voice down significantly.
Nintendo Direct 9.4.19
[
edit
]
Although much of New Horizons had been finalized in this build, there are some elements that differ a bit from the final game. Rosie's name bubble was originally colored dark blue than light blue in the final game. Similarly, Angus previous featured a brown name bubble compared to his orange name bubble in the final game. Outside of the DIY Recipe app, item names were lowercase instead of the sentence case that was included in the final product. The interface that appears whenever a player eats an edible item is colored red and does not feature an limit identicator.
New Horizons version 1.0.0

[

edit

]
Despite version 1.0.0 being the final build of New Horizons, there were notable changes in version 1.1.0 made to specific images for certain assets. These included:
Unused content
[
edit
]
Special characters
[
edit
]
Currently as of version 1.11.0, data exists for the following special characters that are not present in the game outside of posters obtainable from Nook Shopping. This includes their game ID, birthday, and name bubble colors.
Returning special characters
[
edit
]
As of version 1.11.0, the following special characters were added in the game via updates and are no longer considered unused data.
Prior to the 1.1.0 update, data exists of DJ KK's icon.
Reaction
[
edit
]
There are several unavailable animations within the game's code that can only be used by the player via hacking. These animations are either reserved for special characters or villagers or are outright unused. In addition, some reactions listed here were previously available in past games in the series.[2]
Vegetables
[
edit
]
Vegetables were discovered in version 1.0.0 of New Horizons, with several strings being unused: "VegetableTomato", VegetableWheat, "VegetableSugarCane", "VegetablePotato", "VegetableCarrot", "VegatableSquash", "SquashOrange" (Orange Pumpkin), "SquashYellow" (Yellow Pumpkin), "SquashGreen" (Green Pumpkin), and "SquashWhite" (White Pumpkin). The latter four also had some leftover icons before it and the vegetable names were removed in version 1.1.0.[3]
Vegetables would reappear in version 1.4.0 with the following strings: "VgtTomato", "VgtWheat", "VgtSugarCane", "VgtPotato", "VgtCarrot", and "VgtSquash". A new bush was also discovered called Plumeria.[3]
As of 1.11.0, there exists five "vegetables" in the game, the Bamboo Shoot, Orange Pumpkin, Green Pumpkin, White Pumpkin, and Yellow Pumpkin.
The Roost
[
edit
]
As of 1.11.0, The Roost is not New Horizons, but existing data has been uncovered regarding The Roost's presence in the game.[3]
In version 1.0.0, a executable file known as IdrMuseumCafe00 suggested that the museum would have a room dedicated to The Roost. This was promptly removed in version 1.1.0, alongside the modification of any villager dialogues that reference Brewster.[3][4]
In version 1.10.0, assets regarding The Roost resurfaced, with evidence that a café entrance, a new string called "cCafe", and a third floor of the Museum that was highly suggested to be the location of The Roost. Version 1.11.0 introduced a new flag setting called "cNpcMemory:TalkProgressMuseumBuiltCafe".[5]
In the September 23, 2021 Nintendo Direct, The Roost was formally confirmed for Animal Crossing: New Horizons. It will be talked about in more detail during an Animal Crossing: New Horizons Direct on October 15, 2021.[6]
Gyroids
[
edit
]
As of 1.11.0, Gyroids are not present in New Horizons, however preexisting files in New Horizons's datamine confirms that Gyroid had been present in the game, but were unused.[3]
A 1.0.0 executable file exists as "IdrMuseumHaniwa", suggesting that Gyroids were to be given a separate room in the Museum. This file, alongside any dialogue that mention Gyroids, were removed in version 1.1.0. Another string, "35_Gyroid", surfaced in version 1.4.0, once again suggesting the inclusion of Gyroids.[3]
Miscellaneous
[
edit
]
Evidence for sewing and dishes could have be found in the game's strings prior to their removal in version 1.4.0. These were known as "Ftr_Cooking" and "Ftr_Sewing". Event flows were also found for Nat and Chip, suggesting that they were replaced far into development.[3]
References to a Portuguese translation of New Horizons has also been found in the game, with strings pertaining to both European ("EUpt") and Brazilian ("USpt") Portuguese.[3]
References
[
edit
]
↑ 1.0 1.1 1.2 1.3 @PushDustIn (September 9, 2020). "There's a CEDEC 2020 talk on the art direction for Animal Crossing New Horizons. In this thread, I'll be translating the important bits from the talk. I'll be translating in real-time, so please follow to stay up to date.Thanks to @PanchamBro for the heads up!". Twitter. Retrieved August 29, 2021.
↑ Jaye (August 2, 2020). "All Unused Reactions in Animal Crossing New Horizons". YouTube. Retrieved September 7, 2021.
↑ Justin (April 9, 2020). "Villager Dialogue Hints at Brewster's The Roost Cafe & Upcoming Shops in Animal Crossing: New Horizons". Animal Crossing World. Retrieved August 20, 2020.
↑ Justin (July 29, 2021). "Brewster's Café Might Still Be Coming To Animal Crossing: New Horizons, Based On Update Datamine". Animal Crossing World. Retrieved August 20, 2020.
↑ @animalcrossing (September 23, 2021). "Tune in for a livestreamed #AnimalCrossing: New Horizons Direct in October to learn more about the new content coming to your island in November. Look out for more details to come in the near future.". Twitter. Retrieved Septemeber 23, 2021.