Nintendo GameCube
From Nookipedia, the Animal Crossing wiki


Manufacturer
Nintendo
Type
Home console
Release date(s)
September 14, 2001
November 18, 2001
May 3, 2002
May 17, 2002
Media
GameCube Game Disc, Game Pak (Game Boy Player required)
Input
Nintendo GameCube Controller
WaveBird Controller
Game Boy Advance
Predecessor
Nintendo 64
Successor
Wii
The Nintendo GameCube[nb 1] (officially abbreviated as GCN) is a home video game console created by Nintendo and released in 2001. It is the successor to the Nintendo 64 and the predecessor to the Wii. Three of the first-generation Animal Crossing games—Doubutsu no Mori+, Animal Crossing, and Doubutsu no Mori e+—were released on the GameCube in 2001, 2002, and 2003, respectively. Additionally, Super Smash Bros. Melee, which features three trophies of characters from Doubutsu no Mori, was released for the console shortly before Doubutsu no Mori+ in 2001. The GameCube has the ability to connect to the Game Boy Advance to unlock features in various games, including all three Animal Crossing games.
The GameCube sold 21.74 million units worldwide and was discontinued in mid-2007. The GameCube's games and controllers are also backward-compatible with the original model of its successor, the Wii.
The following titles can also be played on the first model of the Wii through backward compatibility.
Memory Card
[
edit
]
"Memory Card" redirects here. For the similar accessory for the Nintendo 64, see Nintendo 64 § Controller Pak.
Save data for Nintendo GameCube games is stored on Memory Cards. There are three official Memory Card capacities: a gray 59-block card, a black 251-block card, and a white 1019-block card. A 59-block Memory Card featuring a unique label and special letter data was included with all copies of Doubutsu no Mori+ and Animal Crossing. The letter on the card contains a welcome message and a Grab Bag containing "K.K. Love Song" and two random NES games.
Game Boy Advance compatibility
[
edit
]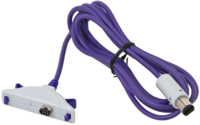 A Game Boy Advance can be connected to the GameCube via Nintendo GameCube–Game Boy Advance link cable. The GBA is used in Doubutsu no Mori+, Animal Crossing, and Doubutsu no Mori e+ to unlock extra features, most notably access to Animal Island in Doubutsu no Mori+ and Animal Crossing, and access to the Doubutsu-tachi to Asobou! minigames in Doubutsu no Mori e+.
Appearances in the Animal Crossing series

[

edit

]
The Nintendo GameCube has been featured and referenced several times in the Animal Crossing series:
External links
[
edit
]
Nintendo GameCube on other wikis
Nintendo video game consoles