Screen wall (New Horizons)
From Nookipedia, the Animal Crossing wiki
| | | |
| --- | --- | --- |
| | Screen wall |  #556 |



Buy price
Sell price
 3,000 Bells
 2,700 Poki
 750 Bells
Obtain via
 Nook's Cranny

HHA themes
Harmonious / Retro
Former HHA themes
Facility
HHA points
151
Colors

Names in other languages

 

ふすま

 

日式拉门

 

日式拉門

 

미닫이 문 벽

 

mur paravent en papier

 

mur paravent en papier

 

pared bruma oriental

 

pared bruma oriental

 

muro porta scorrevole

 

стена-ширма

 

Schiebetürtapete

 

scherm
The screen wall is a wallpaper item in Animal Crossing: New Horizons.
The screen wall can be obtained from Nook's Cranny for

 3,000 Bells.
This item appears in the homes of

Hamphrey as the default wallpaper.
In Happy Home Paradise, this item is unlocked for use in designing when doing a vacation home request for

Admiral,

Annalisa,

Barold,

Blanche,

Dobie,

Genji,

Greta,

Ken, and

Walt. The item can also be unlocked when tasked by Lottie to design the restaurant.
After unlocking this item in Happy Home Paradise, the item can be purchased from Wardell's catalog for

 2,700 Poki.
Appearance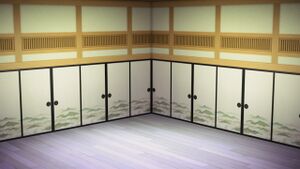 The screen wall has many fusuma screen doors surrounding the room. The paper on the screen has many green mountain tops near the bottom with clouds covering their bases and the rest of the screen is white. Each screen has a black border and round black finger catches. The wall up top has beige wood supports going horizontally across the top of the screens as well as the top near the ceiling. It also has wood of the same type that vertically goes down between the two wooden supports and a decorative wooden grate band that goes all around the wall between these two supports, closer to the bottom. The remaining wall is an off-white shikkui.
Use in crafting
The screen wall is used as a crafting material in the DIY recipes for the following items:
Recipes in Animal Crossing: New Horizons
Includes data sourced from the Data Spreadsheet for Animal Crossing New Horizons, compiled and edited by 6480, noizhub, Ricky, chaiinchomp, saberslime, robotic_scarab, mollumisc, sunmarsh, kyrokey, obstinateRixatrix, jackiwi, Zalex, SuperHamster, kait, hyuum, Azarro, Czarcasm, cinnamon_swirlix, astronomyfortwo, Welcius, glowtopia, BriKun, Alyrei, dodocodes.com, StevieCoops, sneeze, Shiny190, TwistedPeach, LavaToaster, capstone, vmario, rocklamp, Alexis, Aeon, and PanchamBro.
Total screen walls needed to craft all available items: 1.
References