Steel-frame wall (New Horizons)
From Nookipedia, the Animal Crossing wiki
The steel-frame wall is a wallpaper item in Animal Crossing: New Horizons.
The steel-frame wall can be obtained from crafting, which requires

8× iron nugget. The recipe for this item can be obtained from smug villagers, either when they are crafting in their house, or when the player receives their message bottle from the beach.
This item appears in the homes of

Peewee as the default wallpaper.
In Happy Home Paradise, this item is unlocked for use in designing when doing a vacation home request for

Boyd,

Cesar,

Chief,

Cube,

Cyrano,

Deena,

Jacob,

Murphy,

Rasher,

Rocket,

Tad,

Tybalt, and

Walker.
Appearance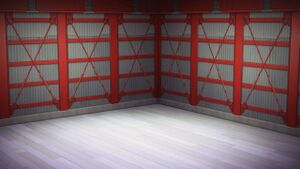 The steel-frame wall has red steel frames holding together wavy sheet metal which makes up most of the wall. Red support wires hold together the beams and cross to the other beam making an "X" shape. Five horizontal red beams also cross between each vertical beam. At the top, there is one large beam laid on top of the bottom part of the red beam construction. A concrete slab lays at the very bottom for a sturdy base.
Gallery
References