Peking Man
From Nookipedia, the Animal Crossing wiki


Scientific name
Homo erectus pekinensis
Selling price
1,100 Bells
Main appearances
Name in other languages


 

Unknown

 

Unknown

 

Unknown

 

Unknown

 

Unknown

 

Unknown

 

Unknown

 

Unknown

 

Unknown

 

Unknown

 

Unknown

 

Unknown
The Peking Man is a standalone fossil that can be donated to the museum in Animal Crossing: Wild World, Animal Crossing: City Folk and Animal Crossing: New Leaf. It is superseded by Australopith in Animal Crossing: New Horizons.
Donating to the museum
[
edit
]
In Wild World

[

edit

]
"Hoo, my, this is lovely. This fossil is in truly exquisite condition. Peking man is significant because he lived roughly 500,000 years ago... Hoo, well, that AND he is said to be a link between apes and humans, wot wot! What particularly fascinates me is the fact that he knew to use fire to cook. Of course, that's standard practice now, eh wot? But I assure you, it wasn't then! They say that this aided in brain development and was a remarkable breakthrough. Peking man's life span was a mere 14 years, so humans today would far outlive him. Oh! Please forgive me! The thought of this hairy ancient quite addled me!"
The Peking Man fossil is displayed in the second fossil room, on the top-right pedestal.
In City Folk

[

edit

]
"Woo hoot! A spectacular find indeed! The significance of Peking Man is the fact that he lived around 500,000 years ago, eh wot? Indeed, it's thought that he could be one of the links between humans and apes. This hirsute fellow used stone tools to hunt game, and he knew how to use fire to cook. Humans did a fair bit of changing after that, of course, but you can see the beginnings of greatness!"
The Peking Man fossil can be found in the museum on the upper level, second fossil from the right (between the Archaeopteryx fossil and the Fern Fossil).
In New Leaf

[

edit

]
"Peking man was a hominid existing 500,000 years ago who used stone tools for crafting. He also hunted for animals, making him more a carnivore than an herbivore. Though not a direct ancestor of modern-day humans, interaction between the two was very likely."
The Peking Man fossil can be found in the museum through the bottom exit of the first room. It is the second fossil from the right.
Real-world information
[
edit
]
Peking man (as called in the game) was one of the first humanoid creatures on earth greatly resembling an ape. They are similar to stereotypical cavemen and are the root of modern-day humans.
As a furniture item
[
edit
]
Name
HRA Points
Feng Shui
Genre
Size (sq)
Peking Man
300
Gray/Brown
Old School(WW)
Retro(CF)
1
Real-world information
[
edit
]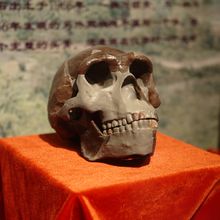 The fossil in Animal Crossing represents the first identifiable Peking Man, with parts of its skull, lower jaw and some teeth showing through the soil. Peking Man was a subspecies of Homo erectus (upright man) that lived around 500,000 to 780,000 years ago. The first part of a Peking Man, two teeth, were first discovered in near Beijing in 1926, followed by skull fragments, more teeth, and a lower jaw on the same site. More skulls were found there over the years, and in 1941, they were shipped to the US for safekeeping during World War II. Despite being packaged and placed on a ship, the fossils never reached their destination. Since then, other skull fragments have been discovered at the site.