User:Decomposer
From Nookipedia, the Animal Crossing wiki

"tapsilog is forever"

Status

Around

Edit Count
4,618 (719 in mainspace)
Gender
male
Service
patroller
Appearances
Nookipedia
Signature
 

Decomposer
Decomposer (n.)

that which decomposes.
Last seen doing:
Who am I
| | |
| --- | --- |
| | This user's favorite villager is Purrl. |
| | |
| --- | --- |
| | This user is a fan of Flip. |
| | |
| --- | --- |
| | This user is a fan of Kiki. |
| | |
| --- | --- |
| | This user is a fan of Henry. |
| | |
| --- | --- |
| | This user is a fan of Yuka. |
| | |
| --- | --- |
| en | This user speaks English as their first language. |
| | |
| --- | --- |
| 古文 | This user would love to be able to learn Literary Chinese! |
| | |
| --- | --- |
| cl | This user would love to be able to learn chileno! |
Someone I guess ¯\_(ツ)_/¯
Screenshot information
I am playing Wild World and New Horizons in a European locale. That's why the numbers and dates may look a bit weird.

As of writing I am not aware of a policy that requires screenshots to be by default of a specific locale.
Current TODO
Sources and References
What follows is a list of sources and references that should be useful. Those with a keen eye would notice that it is copied from the Nookipedia:Project Furniture page.
General guides
Animalxing - Easy to use and navigate, but contains relevant information only to Animal Crossing and Wild World.
Animal Crossing Community - Contains some information on furniture. For New Leaf information, you have to be a member.
Doubutsu no Mori
Doubutsu no Mori+
Animal Crossing
Doubutsu no Mori e+
Animal Crossing: Wild World
Animal Crossing: City Folk
Animal Crossing: New Leaf
Custom furniture
Custom New Leaf tumblr. Yes, this site provides images for the customized items! Please crop the images first before uploading them or I will have to do them! Something simple as MS paint can even do the job...
Cross-referencing (and non-English sources)
While Liquefy's NL guide and others may be complete, certain topics (e.g., region-exclusive events) still need some cross-verification and footage to back them up.
Keywords in Japanese and Korean
Names for titles of series
English
Japanese
Korean
Game titles
Doub. no Mori
どうぶつの森ゲームキューブ
N/A
Wild World
おいでよどうぶつの森
놀러오세요 동물의 숲
City Folk
街へいこうよどうぶつの森
타운으로 놀러가요 동물의 숲
New Leaf (Welcome amiibo)
とびだせどうぶつの森《amiibo+》
튀어나와요 동물의 숲《amiibo+》
New Horizons
あつまれ どうぶつの森
모여봐요 동물의 숲
Searching for details/screenshots of region-exclusive holidays is easier if you look them up in their native language (e.g., 「節分とびだせどうぶつの森」, 《스승의 날 튀어나와요 동물의 숲》, "Muttertag New Leaf"
Villager information (e.g., favorite phrases): go to a particular villager's page and search their (local language) name e.g., 「ティーナどうぶつの森」. Japanese information is sufficient.
Chinese names
集合啦!动物森友会 / 集合啦!動物森友會
Services
Localized wikis
Language-related
On removing user-generated content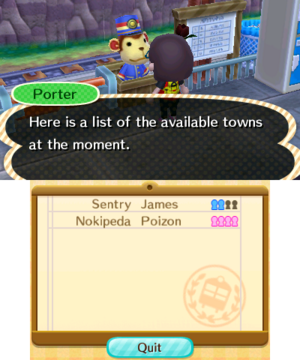 Some images that I have uploaded in this page will contain user-generated content. For instance, the image File:NL Train Station choose destination.png contains names of players that I have interacted with in the past, and File:NL TPC Best Friend.jpg just blatantly shows a person's Town Pass Card.
It is assumed that the images that I upload are anonymous enough to not point to a specific player. In the case that you absolutely need to have some information removed or censored, feel free to contact me through my talk page or the Discord.
Curious findings about other localizations
Maybe this'll be used somewhere, I don't know. All of this info is about NH unless specified otherwise.
Switching languages
The game's language follows the language of the console. If the user changes the language, they'll be warned before starting the game.
In NL, the American localization of the game does not contain support for German or Japanese, for example. "Forcibly" changing the language via Luma magic will do nothing.
NH should support all languages out of the box.
In all games, some labels change e.g., sign on "Nook's Cranny"
Spanish
English
Some villager names are different between EU-en and US-en.
Similarly, some item names are different between EU-en and US-en. And no, items with the word "colored" aren't spelled "coloured" in EU-en.
Similarly again, when Brewster talks about the player about 176\deg F as the best temperature for coffee, he only uses Fahrenheit in the English locales. Yes, also in EU-en.
Interacting with different localizations
A Spanish player can say "Kiki" to an English player but not the other way around.

I would suspect that an English player can describe the common name of a certain fish to a Spanish player but not the other way around.
Turnips are named what in Italian?!

When I donate to a Donation Box, a chat balloon saying "I deposited some Bells!" will automatically appear in multiplayer, but this is a "special message" such that it is translated to the locale of the other players when they read it.