Dreadful painting
From Nookipedia, the Animal Crossing wiki
The subject of this page has no official English localization, so a translation of the original Japanese name is used instead.

The dreadful painting in Doubutsu no Mori

Real-world counterpart
The Scream
Year
1893
Artist
Edvard Munch
Main appearances


The dreadful painting (おそるべきめいが, osorubeki meiga?) is a painting in Doubutsu no Mori and Doubutsu no Mori+. In Doubutsu no Mori+, it is only available through the Data Moving Service, and it does not appear in the catalog. It is based on Edvard Munch's The Scream.
Art details
[
edit
]
In Doubutsu no Mori

[

edit

]
The dreadful painting is replaced by the lovely painting in Doubutsu no Mori+, which shares the same internal hexadecimal ID.
Gallery
[
edit
]
Real-world information
[
edit
]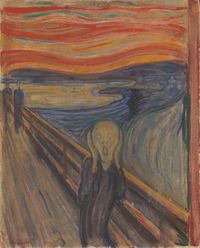 The dreadful painting is based on The Scream by Norwegian artist Edvard Munch. Munch recalled that he had been out for a walk at sunset when suddenly the setting sunlight turned the clouds "a blood red." He sensed an "infinite scream passing through nature." Scholars have located the spot to a fjord overlooking Oslo, and have suggested other explanations for the unnaturally orange sky, ranging from the effects of a volcanic eruption to a psychological reaction by Munch to his sister's commitment at a nearby lunatic asylum.
Notably, as a result of Munch's late death relative to other artists represented in the Animal Crossing series, The Scream was still under copyright at the time of Doubutsu no Mori's release in 2001; it would not enter the public domain until 2015, alongside the rest of the artist's lifetime portfolio (coincidentally, 2015 also marked the entry of Piet Mondrian's portfolio into the public domain; Mondrian's Composition with Red, Yellow and Blue had been the basis for the similarly removed novel painting).[1][2] While no official statement from Nintendo was given, these rights issues appear to be the reason behind the dreadful painting's absence from Animal Crossing onwards.
More information on this topic is available at Wikipedia.
Names in other languages
[
edit
]
おそるべきめいが


osorubeki meiga
dreadful painting
References
[
edit
]