Healing painting
From Nookipedia, the Animal Crossing wiki
The subject of this page has no official English localization, so a translation of the original Japanese name is used instead.
The healing painting (いやされるめいが, iyasareru meiga?) is a painting in Doubutsu no Mori+. It is based on Claude Monet's Woman with a Parasol - Madame Monet and Her Son.
Art details
[
edit
]
In Doubutsu no Mori+

[

edit

]
The healing painting replaces the novel painting from Doubutsu no Mori and is replaced by the scary painting in Animal Crossing, all of which share the same internal hexadecimal ID.
Gallery
[
edit
]
Real-world information
[
edit
]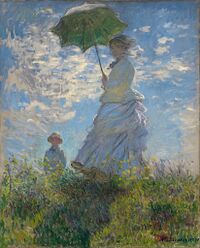 Often regarded as one of the greatest impressionist paintings of all time, Woman with a Parasol – Madame Monet and Her Son (alternatively known as The Stroll) depicts Monet's own wife and child during a summer stroll in the Argenteuil commune in Paris, France. Painted in 1875, the work is noted for its brightness and spontaneity despite its seemingly simple concept, featuring prominent use of texture, lighting, and depth that exemplify the ethos of impressionism as reflective of how light operates in life. The painting would act as an influence not only on Monet's later works, but also those of other impressionists and post-impressionists as well, including American artist John Singer Sargent.
More information on this topic is available at Wikipedia.
Names in other languages
[
edit
]
いやされるめいが


iyasareru meiga
healing painting