Pleasant feeling painting
From Nookipedia, the Animal Crossing wiki
The subject of this page has no official English localization, so a translation of the original Japanese name is used instead.
Pleasant feeling painting



Real-world counterpart
Olympia
Year
1863
Artist
Édouard Manet
Main appearances


The pleasant feeling painting (いいかんじのめいが, iikanji no meiga?) is a painting in Doubutsu no Mori and Doubutsu no Mori+. It is based on Édouard Manet's Olympia.
Art details
[
edit
]
In Doubutsu no Mori+

[

edit

]
The pleasant feeling painting is replaced by the classic painting in Animal Crossing, which shares the same internal hexadecimal ID.
Gallery
[
edit
]
Real-world information
[
edit
]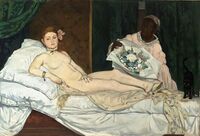 Olympia was painted in 1863 by French painter Édouard Manet. It depicts a nude woman named Olympia lying on a bed while being brought flowers by a maid. Olympia was modeled by French painter and art model Victorine Meurent and the maid was modeled by art model Laure.
Since its debut, Olympia has stoked controversy among audiences, not only for its portrayal of femininity but also for the depiction of the title character's maid, who modern scholars argue reflects lingering anti-black prejudice in French society during Manet's lifetime. The painting is on display at the Musée d'Orsay in Paris.
More information on this topic is available at Wikipedia.
Names in other languages
[
edit
]
いいかんじのめいが


iikanji no meiga
pleasant feeling painting