Meadow vista (New Horizons)
From Nookipedia, the Animal Crossing wiki
The meadow vista is a wallpaper item in Animal Crossing: New Horizons.
The meadow vista can be obtained from Saharah for

 3,000 Bells or

 5 Saharah Tickets. Saharah can also sell this item at her Co-Op on Harv's Island for

 3,600 Bells. This item cannot be ordered from Nook Shopping.
This item appears in the homes of

Beau,

Flora,

Maddie, and

Norma as the default wallpaper.
In Happy Home Paradise, this item is available for use in designing after completing six vacation homes and the school facility.

Beau,

Boots,

Butch,

Curt,

Deli,

Gayle,

Gonzo,

Leopold,

Lily,

Mac,

Mitzi,

Poppy,

Rex,

Rodney,

Sally, and

Tipper feature this item in their order list when designing their vacation home. The item is also featured in the order list of the café.
Appearance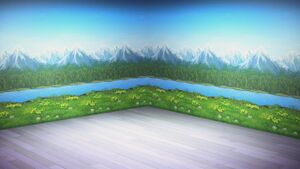 The meadow vista is a landscape scene with greenery and a river in the foreground, with a forest and snow-capped mountains against a blue sky on the other side of the river. There are no windows on this wallpaper.
References