Mii Mask
From Nookipedia, the Animal Crossing wiki
A Mii mask is a form of appearance introduced in Animal Crossing: City Folk and continued in Animal Crossing: New Leaf. In both games, the player can talk to Harriet in Shampoodle about makeovers. Costing 3,000 Bells, a Mii mask covers up the player's face with that of a Mii saved onto the system's memory, either the Wii or Nintendo 3DS. When applied, all accessories, hats, and headgear are removed from the player, though if the Mii is wearing glasses, they still appear. Even though it is just a mask, the Mii mask will display various emotions, including automatic ones such as if the player falls in a pitfall or breaks an axe. Despite this, the Mii mask's mouth will not move when the player uses the text chat. In Animal Crossing: City Folk & Animal Crossing: New Leaf - Welcome amiibo, if the player puts on a Mii mask with a different skin tone, the player's arms and legs will become that skin tone too. However, in the original version of New Leaf, the skin retains its original shade. Mii masks were removed after New Horizons came out most likely due to the decentralized focus of Mii Characters on the Nintendo Switch.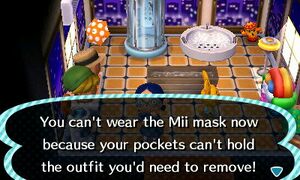 Mii masks can be put on by using the designs window, though there must be pocket space for any accessory or hat the player is wearing. It can be removed at any time via the Designs window or putting on an accessory or hat, which sends the Mii mask back to its spot in the designs window. Bee stings will not show while wearing a Mii mask, though villagers react as though they do. Mii Characters have different expressions when the player uses emotions.
To change a Mii mask, the player must pay an additional 3,000 Bells.

Fashion