Merchandise
From Nookipedia, the Animal Crossing wiki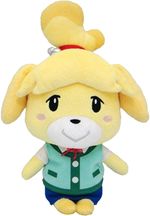 Since the original release of Animal Crossing series, much merchandise has appeared. It varies from action figures to play sets to games. Most of them are available within the certain period of an active Animal Crossing game, some however can be obtained in special promotions and events such as pre-orders.
List of merchandise[edit]
Accessories[edit]
Miscellaneous[edit]
Club Nintendo[edit]
Club Nintendo produced several exclusive Animal Crossing items.
My Nintendo[edit]
My Nintendo has had several Animal Crossing related rewards available.
Gallery[edit]
Calendars[edit]
Homewares[edit]
Keychains[edit]
Notebooks[edit]
Miscellaneous[edit]