Tropical vista (New Horizons)
From Nookipedia, the Animal Crossing wiki
The tropical vista is a wallpaper item in Animal Crossing: New Horizons.
The tropical vista can be obtained from crafting, which requires
5× summer shell. The recipe for this item can be obtained from balloons during summer or from message bottles found on the Summer Shell island via Kapp'n's boat tours.
This item appears in the homes of

Annalise,

Audie,

Bud,

Canberra,

Cole,

Joey, and

Plucky as the default wallpaper.
In Happy Home Paradise, this item is available for use in designing after completing six vacation homes and the school facility.

Angus,

Audie,

Bill,

Bubbles,

Bud,

Cashmere,

Cole,

Curlos,

Daisy,

Derwin,

Hopper,

Keaton,

O'Hare,

Octavian,

Opal,

Patty,

Peck,

Piper,

Rory, and

Zoe feature this item in their order list when designing their vacation home.
Appearance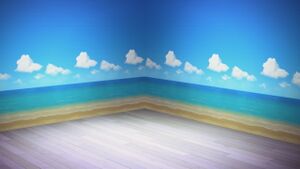 The tropical vista displays a look out to the ocean, with the beach in the foreground. The sky is blue with some clouds in the distance.
Gallery
References