Lily of the valley
From Nookipedia, the Animal Crossing wiki

Lilies of the valley (known as Jacob's Ladders prior to New Leaf and as Jacob's ladders in New Leaf) are a type of flower in the Animal Crossing series, that first appeared in Doubutsu no Mori e+. They spawn only when the town is in perfect condition. This flower does not have any variations, appearing only as a cluster of whitish-green, bell-shaped buds dangling from a leafy plant. The plant does not breed when placed next to other lilies of the valley, but increases the chance for hybrid flowers if placed nearby other plants. They typically spawn at the top of cliffs (one per acre), except in Animal Crossing: Wild World, where cliffs do not appear.
In Animal Crossing: Happy Home Designer, lilies of the valley can be unlocked for use in home and yard decoration by designing Mint or Skye's houses, home decoration only by designing Felicity or Whitney's houses, and yard decoration only by designing Lucky's house.
Gallery
[
edit
]
Screenshots
[
edit
]
Sprites and models
[
edit
]
Real-world information
[
edit
]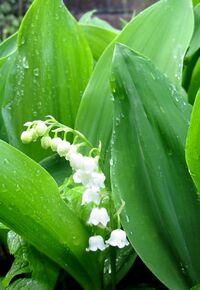 Lilies of the valley are, in real life, flowering and sweetly-scented plants that are native to cooler parts of the northern hemisphere, primarily Europe and Asia. They naturally grow in soft, silty soils in areas with lots of shade, typically of high elevation (up to around 1,500 m high); this is why they usually spawn among cliffsides in Animal Crossing. Lilies of the valley typically flower and bear fruit in early March. However, all parts of the plant are highly poisonous, including its berries.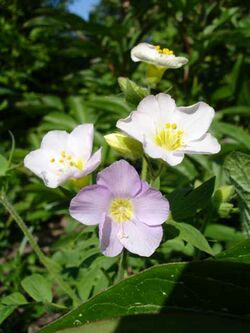 Earlier games in the series refer to the plant as "Jacob's ladder," which is actually the common name for the Polenonium genus of plants. This was a translation error: they are correctly called すずらん (suzuran, the Japanese name for lilies of the valley) in the Japanese versions. The in-game files also call these flowers lilies, and the furniture award from Weeding Day resembling this flower is called the lily lamp. Polenomium flowers are usually purple or blue, and appear very different from the distinctive bell-shaped lilies of the valley.