Arched-window wall (New Horizons)
From Nookipedia, the Animal Crossing wiki
The arched-window wall is a wallpaper item in Animal Crossing: New Horizons.
The arched-window wall can be obtained from Nook's Cranny for

 2,150 Bells.
This item appears in the homes of

Blaire,

Fang,

Hippeux,

Kitt,

Miranda,

Purrl,

T-Bone, and

Willow as the default wallpaper.
In Happy Home Paradise, this item is unlocked for use in designing when doing a vacation home request for

Becky,

Bob,

Boomer,

Chevre,

Colton,

Elise,

Fauna,

Gala,

Kidd,

Marshal,

Midge,

Monique,

Pango,

Penelope,

Petri,

Samson,

Tiffany, and

Timbra. The item can also be unlocked when tasked by Lottie to design the restaurant.
After unlocking this item in Happy Home Paradise, the item can be purchased from Wardell's catalog for

 1,900 Poki.
Appearance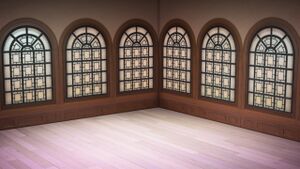 The arched-window wall is a matte brown wall with large arched windows that let light in. The room has low dark brown wainscoting.
References