Animal Crossing × Mario Kart 8
From Nookipedia, the Animal Crossing wiki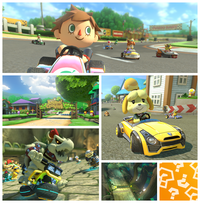 Animal Crossing × Mario Kart 8 (also known as Animal Crossing: New Leaf × Mario Kart 8) is a downloadable content pack for Mario Kart 8 on the Wii U released on April 23, 2015, which contains content based on the Animal Crossing series. The content pack includes the introduction of Isabelle and the human player as playable racers. It also contains two cups, one of which is based on Animal Crossing (the Crossing Cup), and two new vehicles based on Animal Crossing, the City Tripper and the Streetle. The Crossing Cup's signature track (named 'Animal Crossing') has players racing through an Animal Crossing village whose season changes each time the course is played. Familiar faces and buildings can be found on the sidelines, and Resetti even makes an appearance as an unforeseen obstacle, popping out of the ground similar to Monty Mole. The track features newly recorded music more suited to the fast-paced Mario Kart atmosphere.
The Animal Crossing course was one of three Mario Kart 8 courses chosen for players to race on during the 2015 Nintendo World Championships on June 14, 2015.
Some later Wii U premium bundles included both the game and the DLC together. The enhanced port of the game on Nintendo Switch, Mario Kart 8 Deluxe, incorporates this DLC as standard in-game content. However, unlike before, vehicles that appeared in the original pack are now unlocked at random by collecting certain amounts of coins in races.
Content
[
edit
]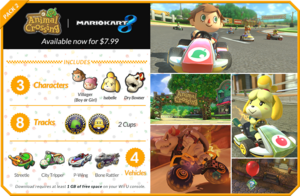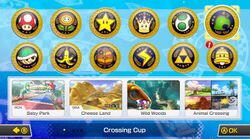 Characters
[
edit
]

Player (or Villager), from the Animal Crossing series

Isabelle, from Animal Crossing: New Leaf
Dry Bowser, from the Mario series
Vehicles and Parts
[
edit
]

City Tripper

Streetle
P-Wing
Bone Rattler

Paper Glider

Leaf Tires
Courses
[
edit
]
The following villagers and special characters can make appearances in the sidelines of the Animal Crossing course. Each character, with the exception of Snowboy, can appear in every season; however, which characters appear and their locations differ between races.
Gallery
[
edit
]
External links
[
edit
]
Animal Crossing × Mario Kart 8 on other wikis