Berliner (New Horizons)
From Nookipedia, the Animal Crossing wiki
| | | |
| --- | --- | --- |
| | Berliner |  #127 |



Buy price
Sell price
 1,200 Bells
 300 Bells
Height
Size

1.0 × 1.0

Obtain via
 Nook Shopping (Seasonal)

Edible
Yes (provides 5 energy points)
Customize
No customization options.
HHA themes
Living room / Party
HHA points
201
Colors
Variations
In other games
New Leaf (berliner)


Names in other languages

 

ベルリーナー

 

柏林果酱面包

 

beignet

 

plato de berlinesas

 

piatto di krapfen

 

берлинский пончик

 

베를리너

 

柏林果醬麵包

 

beigne

 

plato de berlinesas

 

berliner-Teller

 

Berlijnse bollen
"A berliner Pfannkuchen is a type of German pastry filled with jam and topped with sugar—not unlike a jelly donut. They're available year-round, but are a traditional treat in Germany for New Year's celebrations."
— Event description
The berliner is a miscellaneous furniture item in Animal Crossing: New Horizons introduced in the 1.6.0 Free Winter Update. As a miscellaneous item, it can be placed on either the ground or on the surfaces of tables and other similar furniture items that have surfaces for items. Since version 2.0, the berliner is edible and by eating it, the player will earn five energy points to be able to relocate trees or break rocks.
The berliner can be obtained from Nook Shopping for

 1,200 Bells from December 22 to December 31[nb 1] during the Silvester Nook Shopping seasonal event. This item can only be ordered from the catalog while its seasonal event is ongoing.
No villagers have this item in their home.
In Happy Home Paradise, no villagers or facility unlock this item for designing. It can only be used once the player's catalog is unlocked after completing the 27th vacation home.
Gallery
Real-world information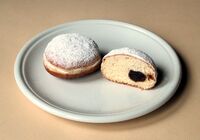 Berliners are a German doughnut that is made with a dough filled with marmalade or jam and fried in fat or oil, and with icing, powdered sugar and conventional sugar. The origins of the dish was first published during the 15th century in the German cookbook Kuchenmeisterei. The name "berliner" were alleged to be based on a legend of a Berlin baker who served the Prussian regiment doughnuts.[1] Berliners are often eaten during the entire year, but are traditionally served during carnival holidays and New Year's Eve (Silvester). Infamously, a speech made by John F. Kennedy, the 35th President of the United States, where he proclaimed "I am a berliner" ("Ich bin ein berliner"), is commonly misconceived as Kennedy proclaiming he was the dish berliner, or translated as "I am a doughnut".
More information on this topic is available at Wikipedia.
In other games
Notes
↑ Prior to version 2.0, this item was available from December 26 to December 31.
References